Summer Sports, Sweat and Hearing Aids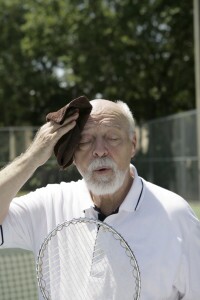 Anybody who knows anything about hearing aids will tell you how important it is to keep them dry. Wear a hat or use an umbrella in the rain. Definitely don't swim in them. Never get into the shower without removing. Don't let them fall into the toilet. Moisture is death to hearing aids.
But what about sports? I was thinking about this this morning when I was playing tennis. It wasn't especially hot — in fact it was a breezy mid-70s. Delightful. But I sweat when I play tennis and for some reason the sweatiest part of me is my face and head.
I have a behind-the-ear hearing aid with a fitted mold in the ear. This means sweat behind the ear is a bad thing, and so is sweat in the ear.
I already have to take my cochlear implant off for tennis, because it bounces around too much. I can't part with my hearing aid as well. I could technically play tennis without being able to hear anything, but I'd feel slightly off-balance, even if my opponent used hand signs to indicate the score and whether a ball was in or out. I'm not that good at tennis as it is — I need all my faculties just to hang in there.
So, flouting expert advice, I wear my hearing aid. I try to dab it dry with a towel now and then, or a Kleenex. I also try to think Soft & Dri. I need an antiperspirant for my ear!
The one thing I do religiously is put my hearing aid in a special dehumidifier jar at night. This is generically known as a dry-aid. It's a jar the size of a small, very expensive jam jar and it contains little white pellets that turn blue when you leave them in a moderate oven for a while. This makes them wick moisture out of your hearing aid.
You can also buy a waterproof hearing aid, or so the manufacturers claim. I can't vouch for this from experience.
Various manufacturers claim that their products are in fact waterproof and not just water resistant. If I were a tennis pro, I might think it worth the investment. But I spend most of my days in front of a computer or talking to people. For me, the priority is the best hearing possible.
Maybe the answer is a hearing aid "sweat band." I had to laugh when I clicked on the link: It's actually a little mesh sack that your behind-the-ear hearing aid nestles into. Kind of like Granny's crocheted change purse. Or that other fluid-resistant sack, used to prevent pregnancy and sexually transmitted diseases.
Get discounts on hearing aids with your AARP Member Advantage »
Forgive my digression. Do your best to keep those hearing aids dry. And I think I'll try the Sweat Band, $25.95 for a two-pack.
Photo: lisafx/iStock
Also of Interest

See the AARP home page for deals, savings tips, trivia and more.