The Cruise Ship Virus -- And How To Avoid It
By Candy Sagon , February 07, 2012 08:00 AM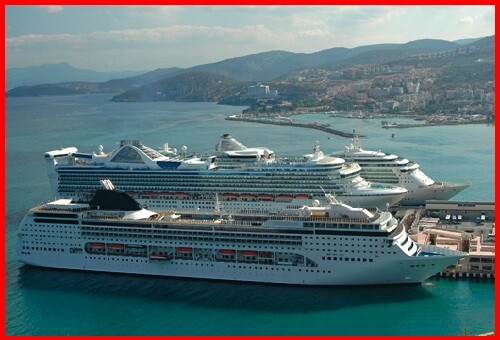 The norovirus -- a nasty little bug that causes stomach upset similar to food poisoning -- sickened passengers and crew on three cruise ships sailing out of Florida and Louisiana this past weekend, requiring the ships to delay departure while they underwent special disinfection.
Nearly 500 passengers got sick on two Princess Cruises ships based out of Fort Lauderdale, and about 200 fell ill on Royal Caribbean's Voyager of the Seas, sailing from New Orleans, forcing all three ships to have surfaces cleaned and disinfected before they could depart.
So what is it with this virus and cruise ships?
Unfortunately, cruise ships get all the publicity when the stomach bug hits because the cruises lines are required to report outbreaks to the federal Centers for Disease Control and Prevention, which then has the ships undergo a "vessel sanitation program" -- an effective scrubbing that helps prevent and control the spread of any further illness.
But noroviruses, which can cause vomiting, diarrhea, stomach cramps and sometimes a low fever, are liable to show up wherever large numbers of people are in close quarters. As the CDC explains, "outbreaks occur more often where there are more people in a small area, such as nursing homes, restaurants, catered events, and cruise ships."
In fact, last month a new study found that the norovirus was the leading cause of infection outbreaks in U.S. hospitals.
Nearly one-third of the outbreaks occurred in facilities that included rehabilitation units, long-term acute care hospitals, psychiatric/behavioral health units, and skilled nursing facilities. Unlike the cruise ships, however, only half of these outbreaks were reported to an outside agency, like the state health department.
Although 200 people getting sick on a cruise ship is a lot of green faces, keep in mind that most of these ships carry some 3,000 passengers, so the majority felt ok.
And there are things you can do to prevent getting the stomach bug, whether you're cruising or somewhere else where you might be exposed to it.
Here are some suggestions from the CDC:
* The norovirus is highly contagious, spread by touching surfaces, food or drinks contaminated with the virus, or by being exposed to someone who's sick. People are contagious from the moment they start feeling sick, to about three days after they begin to feel better.
*Wash your hands, especially after using the toilet and before eating or preparing food. Soap and water are best, but if they aren't available, use an alcohol-based hand sanitizer.
*Avoid shaking hands during outbreaks.
*If you get sick, drink plenty of fluids and wash hands often to keep from spreading your germs. Advise medical staff of your symptoms.
In other health news:
10 warning signs of Alzheimer's. How do you know if it's just a memory glitch or a more serious problem? The Alzheimer's Association offers 10 signs that indicate it's a more worrisome development.
Male smokers lose brain function faster as they age.  A large, long-term study in Britain finds that men who smoke suffer a more rapid decline in brain function as they age than their non-smoking counterparts, with their cognitive decline as rapid as a nonsmoker who's 10 years older. Male smokers have dementia-like cognitive difficulties showing up as early as the age of 45, researchers found. The study looked at more than 7,000 men and women with an average age of 56.
Photo credit: inflexwetrust.com