Traveling? Don't Let The Bed Bugs Bite
By Candy Sagon , July 25, 2011 08:00 AM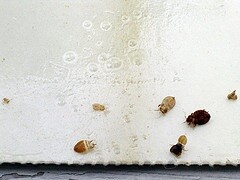 Summertime is vacation time and you know what that means: The risk of finding bed bugs in your hotel room.
There's a national epidemic of the tiny bloodsuckers, with an estimated $250 million spent between 2006 and 2010 on trying to eradicate them from hotels, apartments, classrooms, dorms, just about everywhere. According to the National Pest Management Association, one out of five Americans has had a bed bug infestation in their home or knows someone who has been bitten by the tiny critters at home or in a hotel.
There was even a "Bed Bug Summit" in Washington, D.C., earlier this year to discuss the best strategies to fight the irritating horde.
And now, the L.A. Times reports, bed bug insurance is being offered for the first time for corporations and landlords by two national firms, Aon Risk Solutions of Chicago and Willis North America of New York. NSM Insurance Group of Pennsylvania is also offering coverage.
With bed bug eradication costing an estimated $600 to $800 a room for hotels, there has been increasing pressure from lawmakers to require coverage to protect businesses from financial loss during an infestation.
Unfortunately, this does not apply to individual homeowners insurance. According to the Insurance Information Institute and other insurance experts contacted by the New York Times, most standard homeowners and renters insurance policies do not cover bed bug infestations. It's considered part of the maintenance of the home, like getting rid of cockroaches or rats.
Which is why it's critical to take precautions to avoid spreading the tiny pests, says the U.S. Environmental Protection Agency. They multiply quickly and once you get bed bugs in your clothing or bedding, it can be extremely difficult to get rid of them.
The apple seed-size brown bugs feed only on human blood. They don't carry disease, but their bites can leave red, itchy welts that can lead to painful rashes and allergic reactions. They also aren't limited to beds; they can hide in furniture and clothes and squeeze through tiny cracks in the wall.
If you're traveling this summer, here are some preventive tips:
Check bedbugregistry.com, a free database of reports from travelers, to see if your lodging has had any bed bug reports filed.
Elevate your luggage once you arrive at your hotel room. Put it on a luggage rack away from carpets and beds and do not unpack until you have checked for bugs.
Check the foot of the bed, the headboard and bedposts for any signs of bedbugs. Check the wall near the bed for any red or brown spots that might indicate their presence.
Examine the top, side, seams and bottom of the mattress; check the sheets for bugs or brown spots.
Check any cracks in the wall or any furniture near the bed.
Refuse to stay in the room if you find any evidence of bedbugs.
Photo credit: cdresz via flickr.com