Weekend Checkup: Pet Treat Recall, High Sperm Counts, Constipation
By Candy Sagon , August 11, 2011 05:31 PM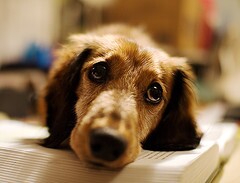 Good dog. Bad treat: Ground turkey isn't the only food being recalled this week for salmonella. The FDA says Doggie Wishbone pet treats have also been recalled because they may be contaminated with salmonella. Merrick Pet Care of Amarillo, Texas, has recalled 248 cases from 10 states.
Pets with salmonella infections can be lethargic and have diarrhea, fever, vomiting, abdominal pain -- pretty much the same symptoms as humans. Contact your vet immediately if your pet ate the recalled treat. Humans also can get sick from handling contaminated treats so be sure to thoroughly wash your hands, advises Food Safety News.
So How's Your Sperm? Apparently, quantity is quality when it comes to semen -- and sperm quality may predict a man's health. The Copenhagen Sperm Analysis Laboratory analyzed semen from 51,543 men between 1963 and 2001 and found that men with the highest sperm counts had a 43 percent lower death rate than men with the lowest counts.
Danish scientists think semen quality may be a reliable biomarker of overall health and life expectancy. Will this mean doctors will ask for a semen sample, along with blood and urine samples, when a man goes for a medical exam? Not anytime soon. As they say, more research -- and different magazines in the doctor's office --is needed.
Chronic constipation relief: A new drug called linaclotide may help make relieving yourself...well, more of a relief, says the L.A. Times. Two new trials of the drug found that it helped about 20 percent of patients go more frequently after receiving a dose once a day for 12 weeks at least 30 minutes before breakfast. The trials involved 1,272 people.
Photo credit: Soggydan via flickr.com