White Meat Chicken? That's So Last Year. Dark Is The New Darling
By Candy Sagon, May 1, 2012 08:00 AM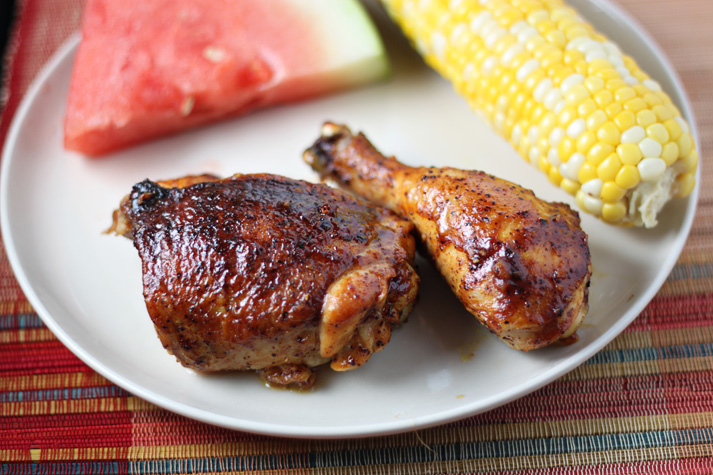 Last year was an economic disaster for the poultry business, but this year there's a new dark knight to the rescue: Soaring sales of the previously ignored dark meat parts -- thighs and drumsticks.

The Wall Street Journal reports that demand for thighs and legs is climbing as consumers tire of bland, low-fat breast meat, and TV cooking shows tout dark meat's richer flavor and softer, moist texture. The country's growing immigrant population also has added to the growing demand for the more flavorful parts of the chicken.

Last year, a supply glut led to a serious slump in the nation's poultry industry as prices plummeted, but this year the increase in dark meat sales has helped the industry rebound.

Some grocery chains, like Whole Foods Market, and some major poultry suppliers are even reporting shortages of chicken thighs, the Journal reports.

Bell & Evans, a Pennsylvania poultry producer that raises 50 million birds a year, told the newspaper its sales of dark meat to some grocery chains have surpassed those of white meat.

"Every single day we have shortage of dark meat," said Scott Sechler, owner of Bell & Evans. "Customers started to realize that if you threw them on the grill, they're a lot more flavorful" than other cuts.

Tyson Foods, one of the country's largest chicken producers, also said its boneless, skinless cuts of dark meat are growing. And Mexican fast food chain Chipotle said it's always used mostly dark meat in its burritos, salads and tacos because the meat is more flavorful.

Consumers looking to cut back on fat in their diet have long been told by dietitians and others to choose boneless, skinless breast meat and avoid the higher-fat dark meat.

But is dark meat really that bad for you?

Here's a dark vs. light comparison for thigh meat and breast meat, according to the U.S. Department of Agriculture's National Nutrient Database:

3.5 ounces of roasted, skinless breast meat: 165 calories, 3.57 grams of fat

3.5 ounces of roasted skinless thigh meat: 177 calories, 8.27 grams of fat

Not that bad, really, and the flavor boost -- and extra moisture -- from the slightly higher fat content may make it worthwhile for you.

Here are some chicken thigh recipes -- garlicky baked chicken, chicken yakitori and slow-cooker chicken cacciatore with broccoli -- to try.

The photo above is of "Lick Your Fingers" BBQ baked chicken from 1messychef.com.

In other health news:

Anxiety, depression go hand-in-hand with arthritis. Depression or anxiety affect one-third of Americans with arthritis who are aged 45 or older, according to a new study from the Centers for Disease Control and Prevention. The study also found that even though anxiety is nearly twice as common as depression among people with arthritis, doctors tend to focus more on depression in these patients, HealthDay News reports.

Caffeine doesn't worsen urinary incontinence in women. Reuters reports that women with leaky bladders who also enjoy tea or coffee may not have to worry about the caffeine making their condition worse, a new study suggests. Researchers say a survey of 21,500 women didn't find a link between women who increased their caffeine consumption and worsening urinary symptoms.

Two types of women benefit from mammograms in their 40s. Researchers have found that two types of women would benefit from regular mammograms in their 40s: those who have very dense breasts, and those who have a close relative - a mother, sister or daughter - who had breast cancer, reports NPR.org. Women in these groups are twice as likely to develop breast cancer as the average woman, the new study indicates.




Photo credit: 1messychef.com