Who's Your (Great-Grand) Daddy? New DNA Tests Can Tell
By Candy Sagon , December 14, 2012 08:00 AM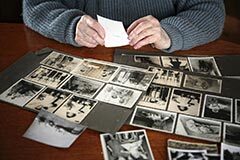 If you're into genealogy and tracing your ancestral roots, new - and cheaper - DNA tests can help you expand the family tree.
The Wall Street Journal reports that while DNA tests have been used primarily to establish paternity, a few companies are now offering commercialized tests that let you go back centuries to figure out great-grandparents, distant cousins and the like.
This past May, Ancestry.com, a site where people can track their family trees, started selling a DNA test "that identifies relatives up to and including fifth cousins," the newspaper reports.
There are three main types of tests, depending on whether you want to trace your paternal line, maternal line or all your extended relatives. They cost between $100 and $300, the newspaper adds, compared with $1,000 as recently as 2007. One company's test also offers clients information about their genetic predispositions to more than 200 health conditions.
How does it work? According to the Journal: "To take the test, you swab the inside of your cheek or spit into a tube, then mail the results to a lab. Two to six weeks later, you can log into an online account for the results. You will generally see your ancestors' regional ties; the migration paths of your ancient ancestors; and people in the company's database (usually identified by a user name) who share some of your DNA. At that point, you typically have the option of contacting those individuals who have agreed to share their results."
One California woman cited in the article used a DNA test to trace her 65-year-old husband's ancestors back to a relative who arrived in Salem, Mass., in 1636. Another woman used the results to link up with distant Finnish cousins who could tell her more about her great-grandmother's mysterious past.
Among the companies offering DNA tests for genealogical purposes is the California-based firm 23andMe, which also offers its clients information about their genetic predispositions to a variety of health conditions.
Photo: Istockphoto