Yeow! Why Did My Glass Pan Explode?
By Candy Sagon, December 26, 2012 11:13 AM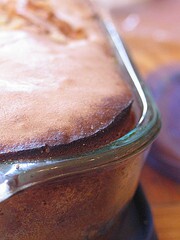 Your favorite glass baking pan - the one you use for making lasagna or brownies or roasting a chicken? There's a chance it could unexpectedly shatter, according to a growing number of consumer safety complaints. Not surprisingly, there's also a growing debate over whether the pans or their users are to blame.

NBC News reports that while these incidents are still rare, reports of glass baking pans or measuring cups abruptly exploding into shards - often during or just after cooking - have climbed sharply. Complaints about the problem to the federal Consumer Product Safety Commission rose from just two in 1999 to 144 in 2011, NBC reported. This year, 93 incidents had been reported as of mid-November.

Emergency room records show that some people have said they were cut by the glass pieces or burned by hot liquid that spattered when the dish disintegrated.

Pyrex and Anchor Hocking, the two top U.S. companies making millions of those glass baking pans, bowls and measuring cups each year, say it's because a small number of consumers are not following the safety instructions included with the cookware. Some experts, however, say newer glass cookware is more prone to breakage from sharp swings in temperature than the older pans your grandma used.

A 2011 report by Consumer Reports found that older glass bakeware was less likely to shatter than newer versions. And two scientists at the University of Alabama at Tuscaloosa, who tested older and newer glass products, came to similar conclusions. They published an article earlier this year in the American Ceramic Society Bulletin suggesting the newer products - made from soda lime glass instead of borosilicate - are more likely to break under extreme conditions.

Both glassware companies vehemently criticized the scientists' methods and conclusions as flawed and inaccurate. World Kitchen, which now makes Pyrex, has also sued the researchers and the journal in which the article was published.

On its Pyrexware.com website, World Kitchen notes that the type of glass used in today's products is less likely to break from being hit or dropped, making it safer for consumers, but it does need to be used properly. Putting a hot pan on a cool surface, or roasting at high heat without enough liquid may cause problems. According to the company, "All glass, even borosilicate, can experience thermal breakage if exposed to sudden or uneven temperature changes."

The company says consumers can avoid the most common causes of breakage by following these four rules:

Always place hot glass bakeware on a dry, cloth potholder or towel. Never place hot glass bakeware on top of the stove, on a metal trivet, on a damp towel, directly on a counter or in a sink.
Never put glass bakeware directly on a burner or under a broiler.
Always allow the oven to fully preheat before placing the glass bakeware in the oven.
Always cover the bottom of the dish with liquid before cooking meat or vegetables.


Photo: nerissa's ring /flickr