Andre Cassagnes: 7 Facts About the Etch A Sketch and Its Inventor
By Patrick Kiger, February 03, 2013 06:03 PM
Kids today have iPads and Xbox game consoles, but a lot of Baby Boomers had a childhood gadget that we loved just as much, and it didn't even require batteries.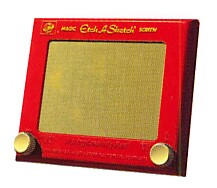 The Etch A Sketch first appeared in toy stores in 1960 and became an immediate must-have in kids' letters to Santa. In the half-century since then, Ohio Art has sold more than 100 million of the classic toys, and children ( even some adults) are still twisting the dials on the front to create endlessly amusing drawings that disappear with a few shakes of the screen.

We all should belatedly thank Andre Cassagnes for the fun we had with his invention. Here are seven facts about the French electrical technician, who died on Jan. 16 at age 86 in a Parisian suburb, and his brainchild:



According to an article from Gifts and Decorative Accessories, a toy industry news site, Cassagnes was the son of a suburban Paris baker. As a young man, he became an electrician for Lincrusta Co., a manufacturer of seat and picture-frame coverings that utilized aluminum powder in the manufacturing process. One day, while installing a light-switch plate at work, Cassagnes peeled away a decal and made pencil marks on its face. He noticed that what he wrote transferred to the opposite side, which was covered in aluminum powder. That gave him the inspiration of creating an erasable slate from a screen coated with aluminum dust. He then hit upon the notion of using dials attached to a stylus to actually make the drawings.

Cassagnes' original name for his toy was L'Ecran Magique (in English, "The Magic Screen").

Some sources, including the Toy Hall of Fame, incorrectly credit the invention to Arthur Granjean, who according to a 2007 Washington Post article was actually an accountant whose name appeared on the 1959 patent application.

Howard Winzler, the son of the founder of Ohio Art, first discovered the Etch A Sketch at a 1959 trade show in Germany, but initially he didn't buy the rights because he felt the asking price was too high. It wasn't until nine months later, when the toy was exhibited at another trade show in New York, that that the company had a change of heart. "I had no idea it would be this big," Ohio Art president Larry Killgallon told a newspaper interviewer in 1990, at the toy's 30th anniversary.

Cassagnes went on to invent other toys, including Teleglide, a system to guide metal cars on a track, and SkeDoodle, another drawing toy that used a globe instead of a flat screen. He also had success as a kite designer.

Not all of Etch A Sketch users are kids. Jeff Gagliardi, an artist who first began using the toy as a grownup in the early 1970s, created numerous intricate sketches with it, including replicas of works by Leonardo da Vinci and Vincent Van Gogh. Sadly, he had to abandon drawing on the Etch A Sketch after breaking both wrists in an accident.

Etch A Sketch got a lot of free publicity during the 2012 presidential campaign, when Eric Fehrnstrom, an adviser to Mitty Romney, compared Romney's image to the toy when he suggested that the candidate could remake himself for the general election. "Everything changes," Fehrnstrom said. "It's almost like an Etch A Sketch. You can kind of shake it up and restart all over again."


From variety store proprietors Don and Beverly Vidler, here's a whimsical video tribute to Cassagnes and the Etch A Sketch.