Andy Williams: 5 Things You Might Not Know About the 'Moon River' Crooner
By Patrick Kiger, September 26, 2012 01:41 PM
If you grew up in the late 1960s, odds are that you remember watching The Andy Williams Show with your parents and marveling at how unexpectedly funky that venerable gentleman with the silky baritone sounded when he sang Stevie Wonder's "For Once In My Life."




But Williams, who died yesterday at his home in Branson, Mo., at age 84, was an entertainer who made a career of out of surprising and delighting successive generations with his versatility.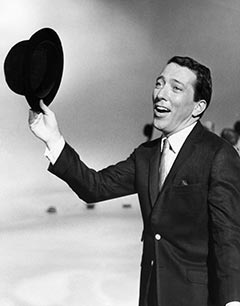 The small-town Iowa native started his singing career as a child in the 1930s in a live-AM radio quartet with his three older brothers. By the 1950s, he was a regular featured performer on Steve Allen's Tonight show, and had a chart-topping hit imitating Elvis Presley with "Butterfly" before becoming known as crooner of languid romantic ballads such as "Hawaiian Wedding Song." In the 1960s and early 1970s, he hosted two popular TV variety shows of his own, gradually morphing into an upbeat pop singer who looked as good in a casual sweater as he had in a crisply tailored suit and tie. As an impresario, he gave the Osmond Brothers their start on TV in the early 1960s, and later featured rock performers such as Elton John and Linda Ronstadt. In the 1990s, he opened his own theater in Branson.

Here are five surprising tidbits about one of America's enduringly most popular singers.



It wasn't easy for Williams to get into show business. At age eight, he and his brothers were rejected at their first radio tryout, which happened to be at the Des Moines radio station where Ronald "Dutch" Reagan worked as a sports announcer. As Williams recalled in his memoir Moon River and Me, he and his brother Dick finally broke in by winning a talent contest at nearby KRNT, where they bested a tap dancer, a poet, an accordionist and, oddly, a ventriloquist.

He got his first solo singing break by pretending to be Lauren Bacall. At age 16, Williams, who'd just finished his lessons at the child performers' school on the lot at Warner Brothers in Hollywood, asked Dudley Chambers, the studio's musical director, if he could go outside and play baseball. As Williams later recalled in his memoir, Chambers stared at him and said, "That's the voice I've been looking for." As it turned out, he needed a youthful but husky-sounding voice to dub in for 19-year-old Lauren Bacall's nightclub-singing scene in To Have and Have Not, and thought Williams, whose voice had just started to deepen, could pass as a young woman. Williams recalled that he dutifully recorded the lip-sync of "How Little We Know," but in the end, the filmmakers couldn't get it to sync properly and ended up using Bacall's own voice.


"Moon River" almost was nixed. Columbia, Williams's record company, initially tried to dissuade him from recording "Moon River," the Henry Mancini-Johnny Mercer classic that became his trademark. As he later recalled, an executive told him, "I don't think phrases like 'my Huckleberry friend' will make it with the kids - they don't know what it means." But after Williams sang the song at the 1962 Oscar telecast and was a sensation, the label quickly changed its tune and rushed a recording into the stores.

He was a close friend and supporter of Bobby Kennedy. Williams actually was at the Ambassador Hotel in Los Angeles to join Kennedy in celebrating his victory in the 1968 California presidential primary, and was headed downstairs to meet him at the moment Kennedy was shot by an assassin. Williams later recalled that singing "The Battle Hymn of the Republic" at RFK's funeral was "probably the hardest thing I ever did." Lauren Bacall, who was in attendance, recalled that mourners broke down and sobbed when they heard Williams' "clear, pure" voice.

He could sing just about anything. Even country, a genre with which he was pretty much unfamiliar. Here's a 1969 clip of him singing a medley of "I Walk the Line" and "Folsom Prison Blues" with Johnny Cash.
Photo: AP