Bob Thompson: He Made Music to Sip Martinis By
By Patrick Kiger, June 10, 2013 03:47 PM
To embrace the swinging bachelor lifestyle touted in Playboy magazine in the late 1950s and early '60s, you needed a few accessories to set a properly free-spirited, licentious ambiance. They included a cocktail shaker, a turtleneck to wear inside your button-down shirt and the just-invented Lutron dimmer switch to turn the lights down low.

You also needed some records that would show off the utter aural magnificence of your top-of-the-line hi-fi, and that's where arranger, composer and bandleader Bob Thompson came in.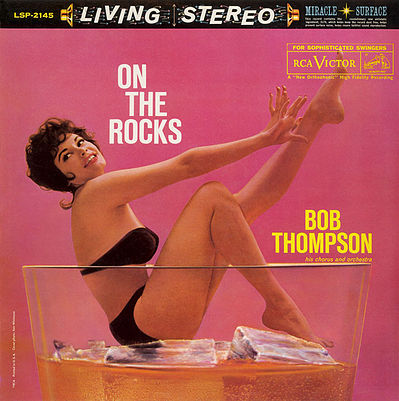 Thompson, who died on May 21 at age 88 in Los Angeles, was one of his era's foremost maestros of sexy mood music. Along with such others as Juan Garcia Esquivel, Thompson helped to popularize a style known as Space Age Pop, also known as Bachelor Pad Music. It was a tangy melange of movie scores, Broadway show tunes, commercial jingles, the "cascading strings" light orchestral sound of Annunzio Paolo Mantovani and touches of rock and jazz, though it was a bit too complex structurally to be rock and not quite complex enough to qualify as jazz.

The result might not have been Leonard Bernstein or Charles Mingus, but it wasn't intended to be high art. Think of it instead as easy listening for libertines - the perfect ambient soundtrack for an alcohol-lubricated discussion of Norman Mailer's latest novel, Salvador Dali or French New Wave cinema, segueing into a little, ah, casual intimacy.

Thompson indisputably was a master of the genre. As he detailed in a 1999 interview, the University of California-Berkeley alumnus got his start writing music for the staff orchestra of a local San Francisco TV station, in the days when everything was live. He later conducted and wrote arrangements for Mae West's stage act in the Poconos before drifting back west to Los Angeles, where he found work arranging songs for budding singers' demos. Eventually, according his official website, Thompson rose to working for such stars as Bing Crosby and Rosemary Clooney and wrote and arranged the music for hundreds of TV commercials.

But he's best remembered for his own records, such as 1959's Grammy-nominated Just For Kicks. Its liner notes invite listeners to "picture a moonlight swim without the encumbrance of superfluous apparel; an impromptu plane flight to Las Vegas or Miami; a cha cha contest at a lease-breaking party; an all night discussion of philosophy while sobering up on café espresso." Here's a particularly stylish number:


Thompson's 1959 album On The Rocks, featuring a bikini-clad model lounging in a cocktail glass on the cover, contains this saucy arrangement of "June is Bustin' Out All Over" from the Rogers and Hammerstein musical Carousel, rendered in Space Age Pop style:


But perhaps the epitome of Thompson's work is "MMM Nice," from the 1959 LP of the same name, which Thompson's website aptly describes as "sexy, mischievous fun."




Also of Interest

Join AARP: Savings, resources and news for your well-being


See the AARP home page for deals, savings tips, trivia and more