Clark Terry: Master Jazz Trumpeter and Educator
By John Murph, February 23, 2015 01:51 PM
The day before J.K. Simmons won an Oscar (best supporting actor) for his portrayal of a sadistic jazz teacher in Damien Chazelle's pulsating, fictional movie Whiplash , legendary jazz trumpeter and educator Clark Terry died Feb. 21 at age 94 after a long battle with diabetes.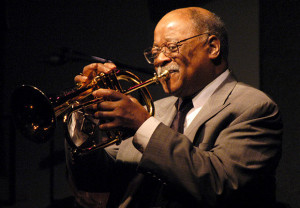 Terry — known for his affable nature as much as his musical brilliance — was one of the main figures in another 2014 breakout film, Alan Hicks' touching documentary Keep On Keepin' On. That film told a different, decidedly more nuanced narrative about a mentor-student relationship between Terry and an aspiring 23-year-old blind pianist, Justin Kauflin.

>> Famous People We've Lost in 2014

In Keep On Keepin' On, Terry and Kauflin's friendship exuded a gentleness that's seldom captured by Hollywood filmmakers who attempt to depict modern-day jazz life. And not to take anything away from Simmons' riveting performance, but Keep On Keepin' On didn't bolster its dramatic gravitas on melodramatic clichés about tortured geniuses.

The documentary effectively captured Terry's avuncular sweetness while tracing his incredible backstory of growing up poor in St. Louis; becoming entranced by jazz as an early teenager; building his first "trumpet" out a funnel and water hose; getting a legit horn — and then becoming one of jazz's most virtuosic and beloved figures of all time.


Terry's career stretched seven decades, with him playing as a sideman for such giants as Charlie Barnet, Duke Ellington, Count Basie, Louis Armstrong, Sarah Vaughan and a host of others, while also becoming a major influence on other leading jazz lights, notably Miles Davis and Quincy Jones. Terry also broke racial barriers by becoming NBC's first African American staff musician; he was a member of the Tonight Show band for 10 years.

>> Get discounts on health services with your AARP Member Advantages.

Terry began recording his own sizable discography as a leader in 1954 with his eponymous debut for EmArcy Records, and continued recording for various other labels for 50 years.

His most popular signature tune, "Mumbles," dates to 1966; it featured him scatting incoherent words with humorous gibberish. For sure, the tune was kitsch; but it has a jovial magnetism that regularly drew in fans — jazz purists and novices alike. And more important, the song never obscured the sheer brilliance of Terry's musicianship or the joys of being a jazz musician that the cinema rarely depicts.


Photo: Getty Images

A lso of Interest

See the AARP home page for deals, savings tips, trivia and more.