Deacon Jones: The Secretary of Defense
When defensive end David "Deacon" Jones, who died on June 3 at age 74 in Southern California, joined the Los Angeles Rams in 1961 as an obscure 14th-round pick out of Mississippi Valley State, it was the derring-do of quarterbacks, running backs and receivers that put fans in the seats and kept them glued to the TV set. Jones helped to change that by making defense just as exciting.


At 6 foot 5 and 270 pounds, Jones was an imposing mountain of muscle, but he had as much agility as brute strength. He popularized an aggressive pass-rushing style of play, in which he dominated blockers by assaulting them with a technique called the head slap, which was so devastating that it eventually was banned. As Jones once explained, he did it "because anytime you go upside a man's head, he may have a tendency to blink his eyes or close his eyes. That's all I needed."

Related: America's Top 5 Football Stadiums

Once Jones found an opening, he burst into the backfield with the aim not just of containing the other team's quarterback, but of slamming him into the turf for a loss. Jones reportedly coined a term for that - a "sack" - and he became so proficient at it that the league eventually began keeping statistics on how many sacks defensive players amassed.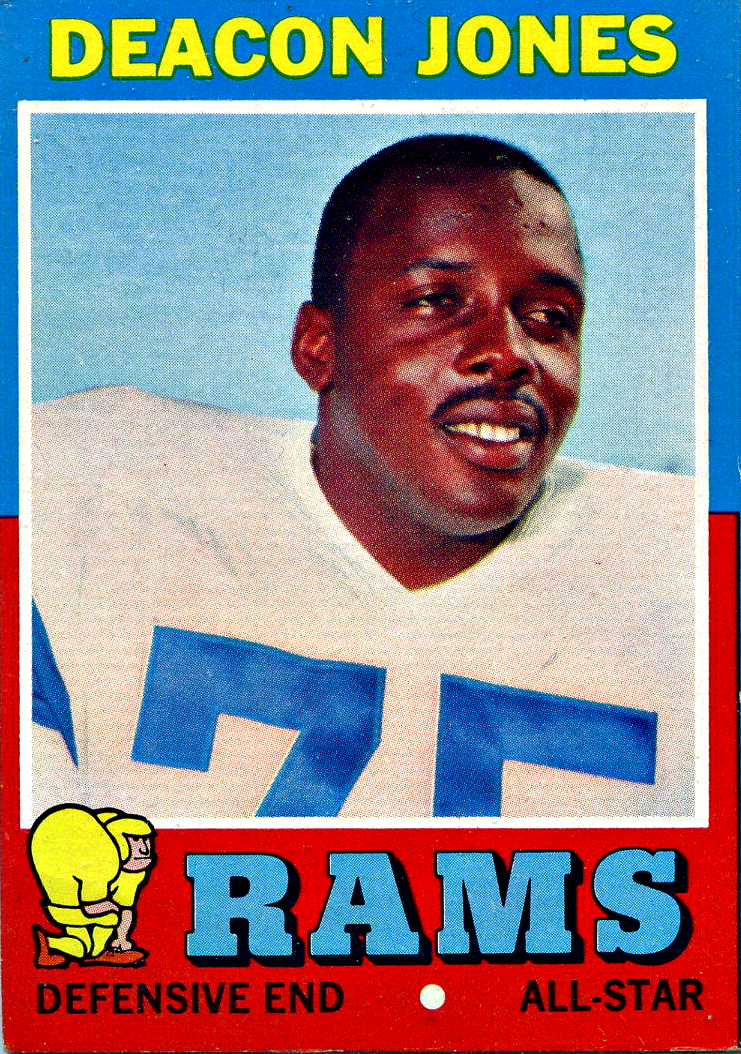 From 1961 to 1971, Jones led the Rams' defensive line, which came to be known as the Fearsome Foursome, and then played for the San Diego Chargers for two seasons before finishing his career with the Washington Redskins in 1974. During that period, he made the Pro Bowl eight times and was so durable that he played in all but five of his teams' games. He was inducted into the Pro Football Hall of Fame in 1980. His former coach, George Allen, called him " without doubt the greatest defensive end to play in modern day football."

Here are some intriguing facts about the man who came to be known as "The Secretary of Defense":

Growing up in Florida, Jones witnessed a carload of white teenagers murder an elderly African American woman by hitting her in the head with a watermelon. He chased the assailants "until my breath ran out," but was unable to catch them. "Thank God I had the ability to play a violent game like football," he explained in a 1999 newspaper interview. "It gave me an outlet for the anger in my heart."
Jones played only two years of college football and was nearly overlooked by the NFL. Two Rams scouts discovered him when, while watching films of one of his college opponents, they noticed a lineman who was so fast that he was out-sprinting the running backs they intended to watch.
Jones nicknamed himself Deacon in honor of Deacon Dan Towler, a Rams fullback who was one of the NFL's first black stars.
There's some controversy about whether he actually invented the term "sack," with another source crediting NFL publicist Jim Kensil.
Los Angeles Times columnist Jim Murray once said that Jones "eats quarterbacks for a living."
In his spare time, Jones also was an actor and singer. Here he is, appearing with other members of the Fearsome Foursome on "Shindig" in 1965:


Also of Interest

Join AARP: Savings, resources and news for your well-being


See the AARP home page for deals, savings tips, trivia and more