Ernie Banks: 'Mr. Cub' Was Happiest Man in Baseball
By Patrick Kiger, January 26, 2015 12:07 PM
Ernie "Mr. Cub" Banks loved baseball so much that he once famously walked onto Chicago's Wrigley Field before a game and proclaimed, "It's a beautiful day, let's play two!" It became his slogan.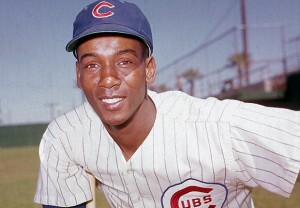 Banks, who passed away on Jan. 23 at age 83 in Chicago, was the first African American to take the field for the Chicago Cubs, hit 512 home runs and won the National League's most valuable player award twice. But it was his irrepressible ebullience, even when playing on a team famous for its inability to win a pennant, that earned Banks a place in the hearts of Chicago fans.

>> Famous People We've Lost in 2014

Here are some facts about the life and career of the happiest superstar in sports history.

A major league scouting report on Banks, when he was still playing for the Kansas City Monarchs of the Negro American League in 1953, noted that his attitude was "very good."
Bleacher Report blogger Kent Sterling once issued a challenge: "Go ahead, try to find a picture where Ernie Banks isn't smiling."
Every year, notes Cubs historian Peter Golenbock, Banks predicted that the team would finally win the pennant with a new rhyme, such as, "The Cubs will come alive in '65!" (They finished eighth.)
A 1967 Ebony profile identified Banks as a locker room anomaly because he "never utters a damn or a hell, not even off the record."
According to former Sports Illustrated writer Joe Posnanski, Cubs coach Buck O'Neil once tried to get Banks to complain by asking him if it was still a beautiful day after he'd struck out for the fourth time in a doubleheader on a day so hot that he'd fainted from exhaustion. "They're all beautiful days, Buck," Banks reportedly responded. "Just that some days are more beautiful than others."
In 2013, when the rock group Pearl Jam invited him onstage at a Chicago concert during a performance of the song "(Someday We'll Go) All the Way," he not only appeared but also wore a baseball mitt that lead singer Eddie Vedder had owned as a 5-year-old.
Another former major league player, Dale Murphy, recalled that at a card show, "He drove the promoter crazy! Spent time/talked with every person. After an hour had signed maybe 15."
At his induction into the Hall of Fame in 1977, Banks said, "When you think that there are so many people around the world who have nothing, you realize how lucky you are to be making a living in the big leagues."


>> Get discounts on health services with your AARP Member Advantages.

Here is Banks in 1970, hitting his 498th, 499th and 500th home runs.


Photo: AP

A lso of Interest

See the AARP home page for deals, savings tips, trivia and more.