Frank Gifford: Football Legend and Sportscast Star
By Patrick Kiger, August 10, 2015 11:32 AM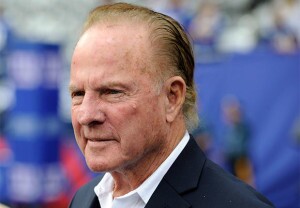 As the low-key buffer between folksy "Dandy Don" Meredith and pontificating Howard Cosell on ABC's Monday Night Football , Frank Gifford became such a sportscasting institution that some younger viewers might not have realized that he was once one of the game's top players.

Gifford, who passed away at age 84 on Aug. 9 in Connecticut, starred at running back for the New York Giants in the 1950s and '60s and led his team to the 1956 NFL championship, a season in which he was the league's MVP.

Famous People We've Lost in 2015 »

Here are some facts that you may not know about Gifford.

When Gifford was growing up in southern California during the Great Depression, his impoverished family was often homeless.
As a freshman, he was cut from his high school football team in Bakersfield, Calif., because he was too scrawny.
While starring on the football team at the University of Southern California, he played a bit part in the 1951 Dean Martin-Jerry Lewis comedy That's My Boy, serving as a stand-in for Lewis to kick a field goal.
He was one of the last two-way players in professional football, playing both running back and defensive back.
Gifford retired after suffering a severe head injury when he was tackled during a Philadelphia Eagles game in November 1960 but made a comeback and played until 1964.
Gifford and television host Kathi Lee Gifford, married for nearly 29 years, shared Aug. 16 as their birthday.
Though he was best known for doing football telecasts, Gifford's announcing of skier Franz Klammer's downhill gold medal run in the 1976 Olympics is considered by many to be one of the finest moments in sportscasting.
Get discounts on prescriptions, eye care and more — AARP Member Advantages »

Here's a 1984 program in which Gifford interviewed Bruce (now Caitlyn) Jenner.


Photo: Bill Kostroun/AP

Also of Interest

See the AARP home page for deals, savings tips, trivia and more.