Did This Actor Invent the Gourmet Hamburger?
By Patrick Kiger, June 11, 2013 03:55 PM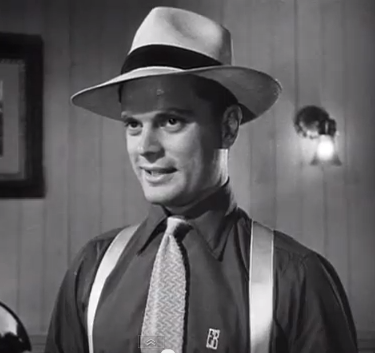 If you're a devotee of the Turner Classic Movies cable channel, you may well know Harry Lewis, even though you might not recognize his name. In the 1948 classic Key Largo, Lewis played Edward "Toots" Bass, a dapper but menacing gunman in a gang - led by Johnny Rocco (Edward G. Robinson) - that takes the occupants of a hotel hostage as a hurricane approaches.

When the hotel's owner, portrayed by Lionel Barrymore, asks whether their motive is robbery, Lewis - decked out in a distinctive Panama hat, necktie and suspenders - utters what might have been his career's most memorable line: "Yeah, Pop, we're gonna steal all your towels."


It was just one of the nearly 60 movie and TV roles that Lewis, who died on June 9 at age 93 in Beverly Hills, Calif., played in an acting career that stretched from 1941's Dive Bomber to the series Fame in 1985. (He even appeared, in an uncredited role, in the 1956 epic The Ten Commandments.) But while Lewis mostly played small roles on the Hollywood sound stages, he achieved genuine stardom in front of a restaurant grill, as the man who popularized the now-ubiquitous gourmet hamburger.

In 1950, frustrated with being typecast as a heavy, Lewis and his future wife Marilyn opened Hamburger Hamlet, on Sunset Boulevard in West Hollywood. The restaurant became famous for serving what may have been the first customized gourmet burgers, with exotic toppings such as Roquefort cheese and caviar, alongside such other menu items as lobster bisque. Despite having had little cooking experience, Lewis soon developed into an expert burger-flipper (according to his Los Angeles Times obituary, he could cook 30 burgers-to-order simultaneously). Unlike other hamburger joints of the time, Lewis's establishment featured red-leather booths, chandeliers and movie memorabilia on the walls. As Marilyn Lewis explained to the industry publication Restaurant Business in 1984: "We're a white-tablecloth operation, but serving hamburgers. A Hamburger Hamlet kind of looks like New York's 21 Club."

See also: The 9 Unhealthiest Restaurant Meals Are...

Over time Hamburger Hamlet grew into a chain with 24 locations nationwide and a following that ranged from Nancy Sinatra and Elton John to countless ordinary families out for an unusual dining experience.

Lewis became so devoted to the gourmet burger business that he pretty much put his acting career on hold for much of the 1960s. But then, as he recounted in a 1968 Associated Press article, he was having lunch in one of his restaurants when he was approached by a pair of Columbia Studios casting agents, who didn't recognize him but were struck by his handsome features. "You're just the man we've been looking for," one of them said, asked Lewis to come to the studio to audition for a role in the 1969 thriller Pendulum. He went on to play a handful of other roles in the 1970s and 1980s.

Lewis and his wife, who survives him, eventually sold the Hamburger Hamlet chain in the 1980s and went on to open other restaurants as well, including Kate Mantilini in Beverly Hills, which is now operated by their sons. Here's a TV news piece on the closing of the original Hamburger Hamlet on Sunset Boulevard in 2011:




Also of Interest

Join AARP: Savings, resources and news for your well-being


See the AARP home page for deals, savings tips, trivia and more