Jack Klugman: 5 Things You Might Not Have Known About Him
By Patrick Kiger, December 25, 2012 10:05 AM
Jack Klugman wasn't the handsomest actor in Hollywood, nor the most dashing. But as producer Garry Marshall once noted: "He had what you need more than anything else in television - likability. Audiences would want Jack Klugman to walk into their living rooms once a week."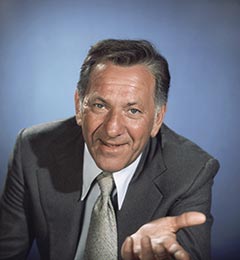 That ability to connect with audiences on the most basic human level made Klugman, who died on Dec. 24 at age 90 in Los Angeles, into one of TV's biggest stars of the 1970s and early 1980s. He had not one, but two hit series. In The Odd Couple, a sitcom that ran from 1970 to 1975, he inhabited the role of slovenly, gruff but somehow charming sportswriter Oscar Madison so thoroughly that he almost made people forget that the great Walter Matthau had originated the role on Broadway and the big screen. From 1976 to 1983, he starred again in Quincy, M.E., in which he portrayed a tough, principled medical examiner who battled with his boss in the interest of justice.

Here are five things you might not know about Klugman:



Klugman, a Philadelphia native who began acting after serving in the U.S. Army during World War II, roomed for a time with another struggling young actor named Charles Bronson.

Klugman came to the TV series The Odd Couple through a roundabout route. He actually took over for Matthau as Oscar Madison in the original Broadway production of The Odd Couple in 1965 and played the role for a year on the stage. But when Marshall was casting the show in 1969, he decided to bring Klugman in for a meeting because he had seen him a decade before in another Broadway play - Gypsy, in which he portrayed Herbie, the stage manager/husband for the brassy main character (played by Ethel Merman). When Marshall asked casting at Paramount to find Klugman for him, they got the name confused and instead brought in an actor named Jack Kruschen (who later went on to play Grandpa Papadopolis in Webster).

Klugman modestly gave his Odd Couple co-star and close friend Tony Randall a lot of the credit for his own success as Oscar Madison. The two often improvised scenes, with Randall leading the way. "He would provoke me into reacting to what he did," Klugman explained. "Mine was the easy part."

Klugman based his portrayal of the idealistic Dr. Quincy in part on the early 20th-century author and socialist Upton Sinclair, whom he admired. "Quincy was a muckraker, like Upton Sinclair, who wrote about injustices," he once told an Associated Press interviewer.

After Klugman underwent surgery in 1989 to remove a tumor from his larynx, he lost his ability to speak - but then regained it with the help of a vocal coach, so that he could perform with Randall in a 1991 stage revival of The Odd Couple. Klugman later became a celebrity spokesman for the American Cancer Society.
Here's a segment of an interview that Klugman did with the Archive of American Television:
Photo: AP