James Gandolfini: How He Compared to Tony Soprano
By Patrick Kiger, June 19, 2013 10:36 PM
For a murderous thug who made his living through extortion, theft and corruption, Tony Soprano was a remarkably easy guy to sympathize with. We felt the pain of his unhappy upbringing, of his frustrations with his coworkers, of the continual pressure to keep earning enough to afford the affluent suburban lifestyle to which his family had become accustomed. We were touched by his affection for the wild ducks that congregated in his swimming pool. When he went to a psychiatrist in the pilot episode and was forced to confront his struggle with depression, it felt painfully real to us.


For that we can thank actor James Gandolfini, the star of HBO's The Sopranos from 1999 to 2007, who managed to bring out the humanity in a violent mob boss and remind us that even an evil man can be beset by the same insecurities, frustrations and yearnings as the most mild-mannered solid citizen.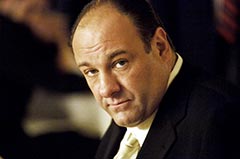 Here are some contrasts and similarities between Gandolfini, who died on June 19 of an apparent heart attack at the age of 51 in Rome, and the fictional character he made so memorable:

Like Tony Soprano, Gandolfini grew up in an Italian-American family in New Jersey. Unlike Tony, whose father was a criminal, Gandofini's father was a law-abiding janitor, bricklayer and cement mason. In the 2012 film Not Fade Away, Gandolfini played a character that he loosely based on his father. The actor described his father as "old school" in a Los Angeles Times interview, noting: "He didn't understand me or my generation. He took care of his family, took care of his children. What we as children didn't realize is our father was a man who had dreams, aspirations and maybe there were things he wanted to do and places he wanted to go and he couldn't because he had a family. When I realized that as a kid, I wished I was a better son."
Like his most famous character, Gandolfini attended Rutgers University. Unlike Tony, who left after failing to succeed on the football team, Gandolfini graduated in 1983 with a bachelors degree in communications, according to Gawker.
Like Tony Soprano, Gandolfini was a real-life tough guy. He was an enthusiastic student of Krav Maga, the Israeli martial art, and even helped bankroll the opening of two training centers in New Jersey, according to the New Jersey Jewish News.
Like Tony Soprano, Gandolfini had a son and a daughter.
The fictional Soprano family lived in a lavish suburban mansion (actually located in North Caldwell, N.J., according to this 2007 Forbes article). In real life Gandolfini owned a slightly less spectacular $1.5 million home in Tewksbury, N.J., which featured two two-story fireplaces, a cathedral ceiling and a jacuzzi, according to NJ.com.
Both were interested in military history. Tony Soprano loved watching World War II documentaries, while in real life Gandolfini produced HBO's 2007 documentary Alive Day: Home from Iraq and 2010's Wartorn: 1861-2010.
Unlike the charming sociopath that he portrayed on the small screen, Gandolfini admitted to being frequently appalled by his character's brutish behavior. He told Fox News in 2007 that, after a scene in which Tony did something especially despicable, he found himself chastising the fictional character. "I would shake my head and say, God, what a [expletive]." Here's the famous final scene of "The Sopranos."


Photo: Barry Wetcher/HBO/Courtesy Everett Collection



Also of Interest

Join AARP: Savings, resources and news for your well-being


See the AARP home page for deals, savings tips, trivia and more