John Spence: Fighting Frogman
By Patrick Kiger, November 5, 2013 06:02 PM
During World War II, John Spence was the kind of hero who belonged in a comic book or movie serial. He was a member of an elite, top-secret team of combat divers called "frogmen," trained by the Office of Strategic Services, the forerunner of today's Central Intelligence Agency, for critical but highly dangerous missions - from rescuing downed airmen before they could be captured to planting explosives on underwater barriers set up by the enemy to hinder beach landings by U.S. troops.

>> Sign up for the AARP Health Newsletter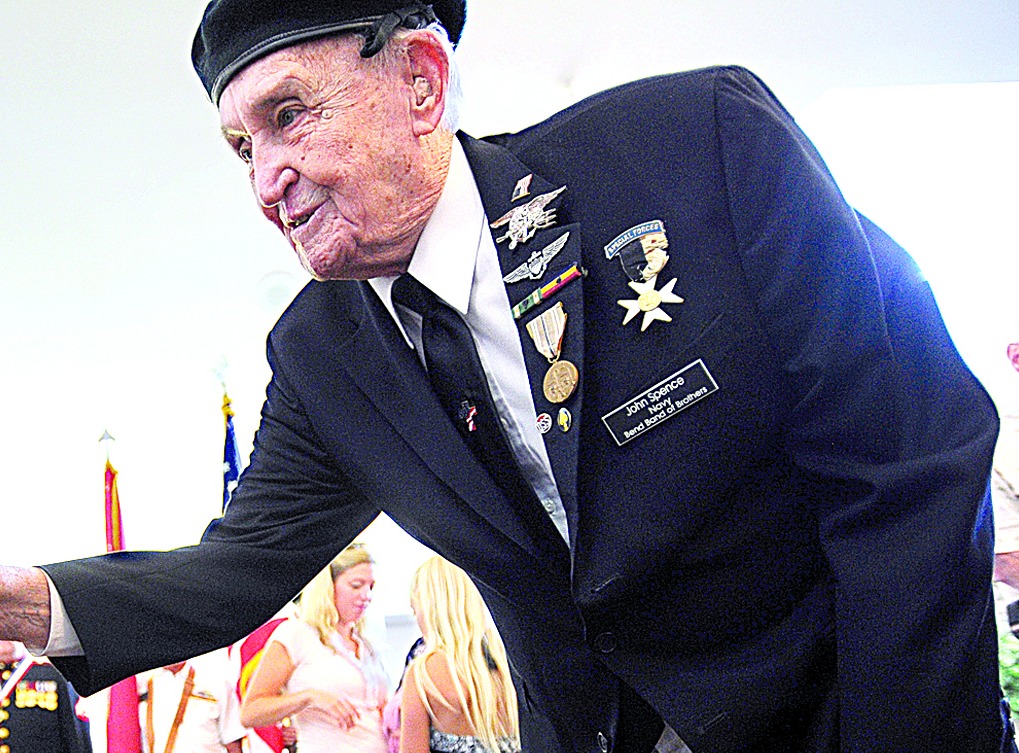 It was the brand of derring-do that the Pentagon today calls on the Navy's SEALs to perform, except without such high-tech gadgetry such as night-vision goggles and satellite communications. Instead, Spence made do with a Ka-Bar knife, a pack of explosives and a then-newfangled breathing apparatus that allowed him and his colleagues to breathe and swim underwater without sending any bubbles to the surface.

"It kind of made me feel like Buck Rogers," Spence would later explain to documentary filmmaker and historian Erick Simmel.

Join the discussion: Share a memory to honor our veterans

Here are 10 other intriguing facts about Spence, who died on Nov. 5 at age 95 in Bend, Ore.:

When Spence was just 9 years old, a band of Tennessee moonshiners killed his father, the local sheriff, in an ambush.
On joining the Navy in 1936, Spence was assigned to the USS Idaho as a combination diver and gunner. When the ship needed underwater maintenance, he'd dive in, wearing a diving helmet tethered to an air source on deck.
When Spence reenlisted after Pearl Harbor, he volunteered to serve as a gunner to protect merchant ships. But Navy officials noticed his diving background and had him wait in Washington, D.C., for three weeks while FBI agents went to his hometown and did a background check on him. Once he passed, he was sent to a secret base in Quantico, Va., for training.
The OSS actually got the idea for its frogman unit after it learned that the Italian military had used swimmers to plant explosives and sink British ships.
Spence could legitimately claim to be the first frogman. When he was climbing out of the water one day during training, an onlooker - amused by the sight of Spence's green rubber waterproof suit, yelled "Hey, frogman!" The name, he later recalled, "stuck for all of us."
During the war, Spence trained other newly formed teams of military divers.
Shortly before D-Day, Spence's unit was sent to England to prepare for an assault on a German submarine base on the French coast. To Spence's dismay, the mission was scrubbed, for fear that it would tip off the Germans about the planned invasion. Instead, according to an obituary in the Los Angeles Times, he went on several clandestine missions in occupied France with British commandos.
Late in the war, Spence served as a gunner on the destroyer USS Wadsworth. During the Battle of Okinawa, he helped defend the ship against Japanese kamikaze pilots.
After he retired from the Navy in 1961 - the year before the SEALs were formed - Spence worked for Lockheed Corp. as a systems engineer.
In the late 1990s, Spence and others in his unit were made honorary members of both the U.S. Army Special Forces and the Navy's SEALs, in recognition of their pioneering role.


Photo: Ryan Brennecke / The Bulletin

>> Get travel discounts with your AARP Member Advantages.

Also of Interest



See the AARP home page for deals, savings tips, trivia and more