Johnny Winter: Blues Legend
By Patrick Kiger, July 17, 2014 12:32 PM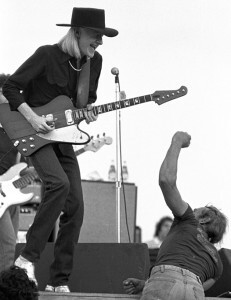 It says a lot about guitarist Johnny Winter that blues great Muddy Waters sang his praises. The first time Waters heard him play live, he was blown away by Winter's blindingly fast thumb-picked electric slide work. "He plays eight notes to my one!" Waters reportedly exclaimed.

Winter-who died at age 70 in Zurich on July 16, a few days after performing at a festival in Austria-was surprisingly humble about the virtuosity that earned him a spot on Rolling Stone's list of the 100 greatest guitarists ever.

>> Photos: Famous People We've Lost in 2014

"I just hope I'm remembered as a good blues musician," Winter said in a 2010 newspaper interview.

But Winter would be hard to forget, given both his long, startlingly white hair - like his brother and fellow musician Edgar Winter, he was born with albinism - and the high-energy guitar playing that was showcased in his appearance at the 1969 Woodstock festival.




Here are some facts about Winter and his life and career:



Winter's introduction to music was hearing his father practice with a barbershop quartet, according to biographer Mary Lou Sullivan. Winter was a musical prodigy who played the clarinet at age 4 and took up the ukulele at age 11. He and Edgar often performed together on children's TV shows and in talent contests.
Winter began playing in nightclubs at age 15, using a fake ID, and began his recording career at 18. He spent several years making unsuccessful records in other styles of music because he initially thought there wasn't any money in playing blues.
Winter started playing with a thumb pick because his first guitar teacher was an admirer of country guitarist Chet Atkins, who used that technique. He originally experimented with wearing a test tube and a lipstick holder on his pinkie to play slide, before a friend got him a piece of metal pipe, he explained in a 2010 Guitar World interview.
Winter's first big break came in 1968, when Rolling Stone published an article that described him as playing "some of the gutsiest, fluid blues guitar you've ever heard."


>> Get entertainment and dining discounts with your AARP Member Advantages.



One of Winter's most popular records was Still Alive and Well, a 1973 LP that crossed over the boundary from blues into hard rock.
Waters - whom Winter idolized - became his frequent collaborator in the late 1970s. Here they are, playing "Going Down Slow" in 1981.

Winter struggled at various times in his life with substance abuse, briefly becoming a heroin addict in the early 1970s, and then relapsing with drinking and prescription-drug abuse in the 1990s. In the early 2000s, he again got sober, with the help of fellow guitarist Paul Nelson. "I think a lot of people would not have been able to come back from being that messed up," he admitted to Guitar World. "It would have killed them."
Winter loved performing live. Here he is, playing the blues classic "Dust My Broom," originally made famous by Elmore James, on the Late Show with David Letterman in 2012.




Photo: Winter performing at the 1979 Woodstock Reunion, by Bob Sanderson via Wikipedia



Also of Interest



See the AARP home page for deals, savings tips, trivia and more