LeRoy Neiman, the 'Salvador Dali of Sports'
By Patrick Kiger, June 21, 2012 04:14 AM
When an ex-GI named LeRoy Neiman was trying to teach himself to paint in the late 1940s by studiously copying prints from books he checked out of the public library, the aspiring artist came to be fascinated with the work of French painter Paul Cézanne, whose daring experiments with color and brushstrokes helped create Modernism.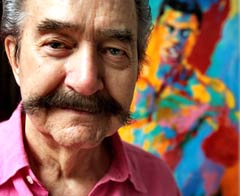 But ultimately, Neiman - who achieved fame with riotously colorful portraits of athletes and sporting events - instead came to emulate another less lofty artist. With his trademark handlebar mustache, his penchant for hanging out with celebrities at the Playboy Mansion and his gift for publicity stunts, Neiman was closer to an American Salvador Dali - except that instead of melting clocks, he painted Muhammad Ali, Arnold Palmer and the Triple Crown-winning racehorse Secretariat.

Neiman, who died Thursday in New York at age 91, had a career nearly as controversial as Dali's. While highbrow critics sneered at Neiman's work - Robert Hughes once derided him as the second-worst painter in the history of American art, after Andrew Wyeth - legions of ordinary sports fans admired the improvisational paintings and drawings that he daringly dashed off on live TV during the Olympics from 1972 to 1984. Others were drawn to the flamboyant sense of action in his work, and to his enthusiasm for chronicling the games and heroes that millions of people were passionate about. Neiman himself seemed to shrug off the criticism. In a 1981 interview, he said he was drawn to painting athletes because "they affect people in a positive way," and because their all-out contests pushed humanity to a higher, nobler level.

"It's a nice feeling to go out in the world and look for excellence - the best in man," Neiman explained. "My subject is very valid. It's about people, and about life."

Artists tend to lead offbeat lives, but Neiman's was earthier than most. He was born in 1921 in Minnesota, the son of a hard-drinking, hell-raising laborer who soon after left Neiman's mother Lydia. As Neiman recounted in a recently published memoir, All Told: My Art and Life Among Athletes, Playboys, Bunnies, and Provocateurs, he grew up in a working-class immigrant neighborhood of St. Paul, where he hustled his first sale as an artist at age 12, persuading the neighborhood grocer to buy his advertising sketches of pigs and cows for 35 cents apiece.

After serving as a cook in World War II, where he entertained other soldiers by painting risqué murals in mess halls, he set out to become a painter back in St. Paul. He eventually managed to earn a degree from the Art Institute of Chicago, where he spent the 1950s teaching figure drawing and fashion illustration. It was during that time that he developed his signature style as a painter, largely by accident. The janitor of the apartment building next to his threw out some half-full cans of enamel house paint, and Neiman used it to experiment, painting rapidly in a flowing style before it dried. Around that time, he also met a fledgling magazine publisher named Hugh Hefner, who hired Neiman to do illustrations for his then-daring new men's magazine, Playboy.

As Playboy grew into a sensation, Neiman rose with it. He convinced Hefner to let him do a regular feature for the magazine, "Man at His Leisure," in which he traveled to various exciting and adventurous places and events, such as the running of the bulls at Pamplona and the auto races at Le Mans. In addition to his instant paintings for the Olympics and the Super Bowl, he famously made live sketches on TV of the 1972 chess match between Bobby Fischer and Boris Spassky in Iceland.

But Neiman didn't just paint sports. He also did portraits of Martin Luther King, the Beatles, conductor and composer Leonard Bernstein and poet Marianne Moore, among others. And he was generous with the wealth his paintings generated. In 1995 he gave $6 million to Columbia University's School of the Arts, and in 2006 he gave $1 million to underwrite a center that provides art classes to children in Harlem.