Maeve and Me: My Chat With the Marvelous Maeve Binchy
By Bill Newcott , August 01, 2012 10:08 AM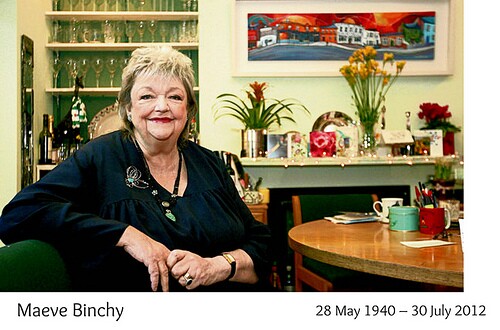 Surprisingly few movies were made from the books of Maeve Binchy, whose 18 novels sold more than 40 million copies worldwide. Binchy, who died at age 72 on July 30, was the poster child for middle-aged would-be authors: Her first novel, Light a Penny Candle, wasn't published until she was 42 years old.
How About You?, a charming 2008 film starring Vanessa Redgrave, was based on a short story by Binchy, and she chatted with me about it by phone from her home near Dublin.
On this day, workers were at Binchy's house removing a lovely spiral staircase and installing an elevator ("I have a bit of heart trouble," she said), and she joked that the workers were glad she was taking the time to talk with me rather than look over their shoulders.
"It means they can go away and have a cigarette and a cup of tea!" she laughed.
Binchy never wandered far from her birthplace for long-from her upstairs window, she told me, she could see the house in which she was born. Her Irish brogue remained a hallmark of both her books and her conversation-she never said "thing," she said "t'ing." Although she wore celebrity well, she seemed almost apologetic in talking about it: When asked about her neighbor, U2 frontman Bono, she confessed that she knew him, but hastened to add "I know him just to say hi when I see him in the shops or in the Chinese restaurant."
How About You? is the story of a bunch of sour-souled retirees living in a home south of Dublin, and the vivacious young woman who changes their entire outlook. It was, Binchy told me, a reflection of her own attitude toward life.
"I was once asked on a television show in France 'What is your philosophy of life?' It's the most incredible question to ask somebody, because I'd never actually thought what my philosophy of life was. But suddenly asked in front of eight million people, I thought, 'Well, what is it?'
"I think it's that we have to make our own life, really. We have to make our own happiness, and we have to make our own decisions and play the hand that is dealt to us.
"Nobody ever wins by the cavalry coming to rescue you. It isn't a question of you're happy if you get married, or you get thin, or you get rich, because I've known lots of thin, rich, married people who are absolutely miserable.
"Happiness is in our own hearts. I have no regrets of anything in the past. I'm totally cheerful and happy, and I think that a lot of your attitude is not in the circumstances you find yourself in, but in the circumstances you make for yourself.
"I've had disappointments and sadnesses in my life, like everybody has. My parents died much too young. My husband ( children's author Gordon Snell) and I didn't have children, which we would have loved. These are disappointments, but we got over them. About the death of my parents, I thought, 'Well, at least they're frozen in our minds as the vibrant young people they were.' And when we didn't have children we asked people to lend us their children for little visits, and we have loads of surrogate children and surrogate grandchildren."
The younger woman at the center of How About You?-played by Golden Globe-nominated Hayley Atwell-snaps the seniors of the story out of their malaise by reading them the riot act one day, telling them if they don't cheer up they will all die in that retirement home and nobody will miss them.
I asked Binchy which of the movie's figures most resembled herself, and I was not surprised when she pointed straight at Atwell's spunky young woman.
"In my stories, whenever there's somebody wonderful and charming and bright and intelligent, that's me!" she laughed.
I observed that she didn't seem to suffer the personal insecurities that plague so many writers, and she enthusiastically agreed, crediting her parents with that.
"My mother and father thought we were all marvelous," she said. "They thought all their ducklings were swans.
"On the night I was going out to my first dance, I looked so hideous. I was in a dress that I was bursting out of because it belonged to my cousin. And I had sores on my ears-running sores!-because I'd been trying to rehearse putting earrings on them. I was the most dreadful-looking person that ever went out to a dance.
"My mother looked at me with such admiration and love and said, 'You're so beautiful you'll take the sight out of their eyes!'
"Of course nobody danced with me at all, but I thought that was a mistake!
"I was very lucky to have a supportive childhood. I hope I didn't become obnoxious, but I did certainly grow up in a world where I thought I was as good as anybody else."
Good, and in some ways, unmatched. Now, Maeve Binchy's effusive spirit lives on in that world-embracing sense of goodwill that flowed through her pen and into the hearts of millions of ardent readers.
CLICK HERE to hear my 2-minute 2008 Movies for Grownups radio show with Maeve Binchy.
CLICK HERE to hear my entire 15-minute interview with Binchy (the phone connection causes my voice to echo, like Bob Sheppard at Yankee Stadium-but Maeve sounds marvelous).
Photo Credit: UggBoy&UggGirl via Flickr