Maria von Trapp: Her Family Inspired 'The Sound of Music'
By Patrick Kiger, February 24, 2014 08:26 AM
In 1938, Maria von Trapp fled the Nazi takeover of her Austrian homeland along with her father, her siblings, and her similarly named governess-turned-stepmother, Maria Kutschera von Trapp. Their adventure eventually inspired one of the most beloved film musicals in history, The Sound of Music, which made Julie Andrews (who played stepmother Maria) into a superstar.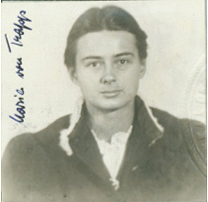 But the true story lived by von Trapp - who died on Feb. 22 at age 99 in Stowe, Vt. - was considerably different from the one depicted on Broadway, the silver screen and most recently, in a live TV version starring Carrie Underwood.

Here are some of the actual facts about the last surviving member of the original family troupe, and how her life differed from fiction:



Her full name was Maria Agatha Franzisca Gobertina von Trapp, according to a 2005 article by Joan Gearin, a researcher with the National Archives, who unearthed the family's immigration documents.
She was born in 1914, the third-oldest child of Austrian navy Capt. Georg von Trapp and his first wife, Agathe Whitehead von Trapp, who died of scarlet fever when young Maria was just 8.
In the movie, Maria Kutschera, after leaving the convent, joins the von Trapp family as a governess for all of the captain's seven children from his first marriage. But in real life she was hired in 1926 as a tutor for then-12-year-old Maria von Trapp, who was recovering from her own bout with scarlet fever and was too weak to walk three miles to school, according to her own account on the official von Trapp website.
In

The Sound of Music

, the governess taught the children music. In real life, they already were musically inclined. "Sometimes our house must have sounded like a musical conservatory," Maria von Trapp wrote. "You could hear us practice piano, violin, guitar, cello, clarinet, accordion, and later, recorders. We would gather in the evenings to play Viennese folk songs on our instruments with Father leading on the violin." Maria Kutschera did introduce them to singing classical music, she recalled.
In the stage and film versions, Maria von Trapp's father and stepmother married and then shortly afterward fled Austria. In real life, they married in 1927, 11 years before their departure, and had three additional children to add to the original seven depicted in the play and film, according to Gearin's National Archives article.
The fictionalized von Trapps made a dramatic escape from the Nazis, hiding in the convent where Maria Kutschera von Trapp once had been a novice, and then hiking over the Alps to reach Switzerland. In real life, according to Gearin, they didn't sneak away. In a 2003 interview with Opera News, Maria von Trapp explained: "We did tell people that we were going to America to sing. And we did not climb over mountains with all our heavy suitcases and instruments. We left by train, pretending nothing."
In the play and movie, the children's names were changed, and Maria von Trapp, who actually was 24 when the family fled Austria, morphed into a 13-year old named Louisa (portrayed by Heather Menzies-Urich). But the real Maria actually appeared in the film version as an uncredited extra in the "I Have Confidence" number, according to the Internet Movie Database.
As an adult, Maria von Trapp lived in New Guinea from the 1960s through the 1980s, where she worked as a missionary and teacher.
In 2008, Maria von Trapp returned to Austria, and stayed in her family's original home, which had been transformed into a hotel.