Marion Cunningham: A Champion of Home Cooking
By Candy Sagon , July 12, 2012 05:07 PM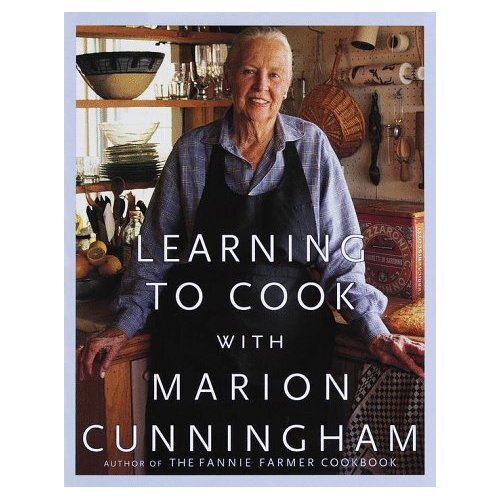 Marion Cunningham, the inspiring, plain-spoken champion of American home-cooking who was best-known for her revisions of the classic "Fannie Farmer Cookbook," has died at age 90 in Walnut Creek, Calif.
Cunningham was revered by a wide circle of chefs, food writers, cookbook authors - basically, anyone blessed with the good sense to appreciate simple, comforting recipes rooted in American culture and tradition.
She was also an inspiration - a woman who overcame personal demons to start a career in middle-age, unselfishly mentored those much younger, and championed the kind of simple, true cooking that often gets overlooked in the rush for hype and trendiness.
She had a reputation for being forthright, even blunt. As a longtime food writer, I could always count on her for no-b.s. answers to questions about cooking - like the time I asked why a particular step was needed in a cake recipe and she told me, "because otherwise no one will eat it."
Plus, her recipes were golden. When I recently downsized and had to give away/donate a couple hundred cookbooks, the dozen or so that I kept included three of hers: "The Fannie Farmer Cookbook," which she revised in 1979 and 1990, "The Fannie Farmer Baking Book," an absolute treasure she wrote in 1996, and 2003's "Lost Recipes," a small collection of her favorite standbys.
Cunningham, married and the mother of two, found her calling when she was 45, overcoming a crippling fear of flying to travel to Oregon for a cooking class with renowned teacher and author James Beard.
It changed her life. She went on to become his assistant, and then, when she was 57, got her first job writing cookbooks. Knopf publishers had been looking for an expert home cook to update and improve "The Fannie Farmer Cookbook," and Beard recommended her.
The iconic cookbook, first published in 1896 as the Boston Cooking School Cookbook, had been revised several times. By the time Cunningham tackled it, the recipes no longer reflected simple, quintessential American cooking. They were out-of-date, heavy and unappealing.
She meticulously tested hundreds of recipes in her home kitchen and in 1979, when the newly revised edition was published, the cookbook had been restored to its original luster as a source of dependable, American standards for cooks of all ages and experience. It was an instant success.
Cunningham revised it again in 1990, and six years later wrote the acclaimed "Fannie Farmer Baking Book."
The last time I spoke with her, when she was 81, she had just written, "Lost Recipes," a slight, wistful collection of old reliables from her personal recipe box.
As usual, it was full of typical Cunningham gems. It was also a book tinged with sadness because, as she bluntly told me, it would be her last.
She went on to bemoan the loss of the family dinner hour and the way home cooking "had been diminished tremendously." She called it disheartening that families don't share meals together, and she hoped this very personal, sentimental collection might lure some cooks back into the kitchen each evening.
"My recipes come from a time when there was a stronger family life around the dinner table," she told me. "They're simple, and they taste good to me. I hope they'll be alluring enough so people will try some of them."
Here are some of her recipes to try:
* Green Goddess Dressing, which Cunningham includes in her last cookbook, "Lost Recipes," dates from 1925 when George Arliss starred in the play "The Green Goddess." The chef at the Palace Hotel in San Francisco honored Arliss by creating a creamy dressing for a green salad called "Green Goddess," which became extremely popular -- for good reason.
* Cunningham baked these buttermilk crumb cupcakes every year for the bake sale at her children's school. When she wrote a cookbook for children, this easy recipe was also included.
* Cunningham was a huge fan of breakfast. She even devoted a whole cookbook to it, "The Breakfast Book." She was probably best known for her overnight yeast-raised waffles, but if you don't have the time, try her whole-wheat buttermilk waffles that use half whole-wheat, half white flour to enhance their wheaty flavor and nutrition.
* Enjoy a warm slice of applesauce nut bread, a perennial favorite from "The Fannie Farmer Cookbook." It's simple-to-make and delicious with butter, honey or just plain.
From "The Fannie Farmer Cookbook,"
Photo via Learning to Cook with Marion Cunningham