Nancy Reagan: She Helped Lead Fight Against Alzheimer's
By Patrick Kiger, March 6, 2016 02:04 PM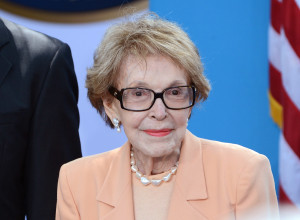 During her husband Ronald Reagan's presidency from 1981 to 1989, former movie star Nancy Reagan was one of the most stylish and influential first ladies ever. But arguably, Mrs. Reagan, who passed away March 6 at age 94 in Los Angeles, made just as big an impact upon America after she and her husband left the White House.

Famous People We Lost in 2015 »

When the former president was diagnosed with Alzheimer's disease in 1994, Mrs. Reagan helped her husband write a poignant letter that revealed his plight to the public. For the next 10 years, she remained almost constantly by his side, becoming the nation's highest-profile Alzheimer's caregiver. In addition, she became an important activist and leader in the fight to find a cure for the dreaded neurological disorder.

Her effort was widely recognized in social media eulogies.


In 1995, Mrs. Reagan and her husband joined forces with the National Alzheimer's Association to form an affiliated organization, the Ronald and Nancy Reagan Research Institute. By the time of the president's death in 2004, the institute had raised $15 million to fund research into areas such as the search for biomarkers for the disease.

In 2001, Mrs. Reagan made the bold move of publicly disagreeing with then-President and fellow Republican George W. Bush and endorsing embryonic stem cell research to find a cure for Alzheimer's and other neurological diseases.

Mrs. Reagan gave support to the families of Alzheimer's patients by going public about her own struggle to cope with her husband's condition. In 2002, two years before his death, she gave a frank interview to CBS News journalist Mike Wallace. "When people say, 'You have Alzheimer's,' you have no idea what Alzheimer's is," she explained. "You know it's not good. You know there's no light at the end of the tunnel. That's the only way you can go. But you really don't know anything about it. And you don't know what to expect."

Get discounts on prescriptions, health exams, eye care and more — AARP Member Advantages »

In that interview, Mrs. Reagan also described how she frequently reread the love letters that her husband had written to her over the years, in an effort to maintain her connection to the man she loved. She published some of those letters in a 2000 book, with the proceeds going to Alzheimer's research.

Here is Mrs. Reagan's 2002 interview with Mike Wallace.


Photo: Michael Kovac/Getty Images




Also of Interest

See the AARP home page for deals, savings tips, trivia and more.