Patty Andrews: 10 Facts About the Youngest Andrews Sister
By Patrick Kiger, February 1, 2013 04:12 PM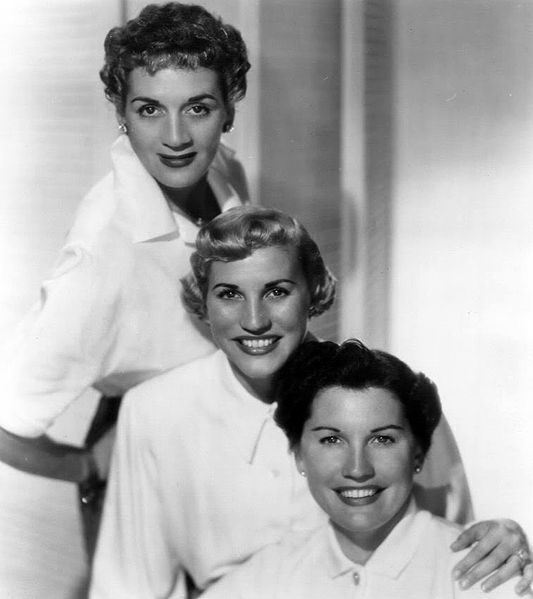 If you're a boomer, the phrase " girl group" probably brings to mind the Shangri-Las or the Supremes (though your children or grandchildren might think of Destiny's Child or TLC).

But decades before any of those acts ever recorded a single, your parents probably thrilled to the smooth, energetic harmonies of the Andrews Sisters: LaVerne, Patty, and Maxene (pictured from top to bottom in the photo on the right).

The Andrews Sisters sold by various accounts 75 million to 100 million records in the late 1930s and 1940s with hits such as "Rum and Coca Cola," "Boogie Woogie Bugle Boy (of Company B)" and "Don't Sit Under the Apple Tree (With Anyone Else But Me)." Here they are performing that song in the 1941 Abbott and Costello film comedy Buck Privates.




Lead singer Patty Andrews, who was the youngest and last surviving member of the famed trio, died on Jan. 30 at age 94 in Los Angeles. Here are 10 intriguing facts about the greatest female singing trio of the first half of the 20th century:



The Andrews Sisters, born in Minnesota, were daughters of a Greek immigrant who changed his last name from Andreos to Andrews when he settled in America.

The sisters loved singing from an early age and began performing professionally in 1932, when Patty was just 14.

Their first big hit, in 1937, was "Bei Mir Bist Du Schön (Means That You're Grand)," a Yiddish theater song by Sholom Secunda, with new English lyrics written by Sammy Cahn, who would go on to win four Oscars for movie songs.

When the Andrews Sisters started out in the 1930s, they earned just $125 a week, according to their manager Lou Levy. At the apex of their stardom in the 1940s, they made about 100 times that.

The sisters had a three-times-a-week radio show on the CBS national network in the 1940s, sponsored by Chesterfield cigarettes, which also backed bandleader Glenn Miller.

The sisters made their acting debut in the film Argentine Nights in 1940, and were panned by the Harvard Lampoon's editors, who called their performance the year's "most frightening." They drolly responded by offering to sing at a Harvard dance, promising that "We'd scare 'em to death." They went on to appear in 13 more films.

While entertaining 5,000 GIs in Italy who were preparing to ship out for the Pacific in August 1945, the Andrews Sisters were interrupted by the troops' commanding officer. He handed the women a note that the Japanese had surrendered, which Patty read aloud to the men. According to her Los Angeles Times obituary, the soldiers were dead silent, until she told them, "This is really true," and started to cry. The troops then erupted in cheers.

When gangster Benjamin "Bugsy" Siegel reopened the Flamingo resort in Las Vegas in March 1947, after the previous year's disastrous grand opening, the Andrews Sisters not only provided the entertainment but also reopened the front doors and mingled with guests, according to a Las Vegas Sun article. But even their star appeal wasn't enough to redeem Siegel in the eyes of his mob bosses, who put a hit on him three months later.

The Andrews Sisters broke up in 1953 after squabbling over finances, according to this Associated Press account, and Patty went on to a brief career as a solo performer. According to biographer H. Arlo Nimmo, her 1954 Las Vegas performance earned mostly rave reviews, but Patty found being onstage alone discomforting. "It was ... like I couldn't keep my balance," she later explained. "I was always in the middle, and my sisters weren't there."

The sisters eventually reconciled as the result of movie producer David Susskind, who brought them back together to get their approval for an Andrews Sisters biopic. Though the film was never made, the sisters discovered that they enjoyed one another's company again, and subsequently staged a surprise reunion on the CBS show Shower of Stars in 1956, on Patty's 38th birthday.