Richard Griffiths: 5 Priceless Scenes with the 'Harry Potter' Actor
By Patrick Kiger, March 30, 2013 04:41 PM
When the word "Falstaffian" is used to describe an actor, it's usually intended as a euphemistic reference to his girth. But in Richard Griffiths' case, he really captured the dissolute, larger-than-life outrageousness of Shakespeare's signature rotund rascal in myriad stage and screen roles.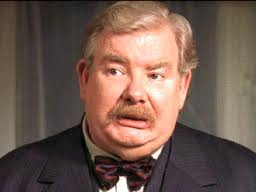 The British character actor, who died on March 28 at age 65 in Coventry, England, after complications from heart surgery, actually did play Falstaff in Henry IV, P art I and Part II, for the Royal Shakespeare Company. While he's best known in the United States for his role as the villainous Uncle Vernon in the Harry Potter films, he also appeared in scores of other movies, from the 1984 thriller Gorky Park to 2011's Pirates of the Caribbean: On Stranger Tides.

Here are five of Griffiths' most memorable moments onscreen:



Harry Potter and the Sorcerer's Stone (2001). As Uncle Vernon, Griffiths infuses the line "No post on Sunday!" with more smarminess than any drama coach could ever hope for.

Withnail and I (1987). In his native England, Griffiths might have been most famous for his portrayal of another uncle, the predatory Uncle Monty in the 1987 low-budget black comedy Withnail and I, which has become a cult classic. His flowery, pompous "end of an age" soliloquy, delivered as he lasciviously grasps the hands of his visitors (Richard E. Grant and Paul McGann), is deliciously creepy.

Pirates of the Caribbean: On Stranger Tides (2011). The scene is obviously written to showcase Geoffrey Rush and Johnny Depp, but Griffiths' interpretation of King George II as an 18th-century version of Jabba the Hutt is hysterical in its own right.

The History Boys (2006). Griffiths' portrayal of the charismatic yet secretly perverse grammar school teacher Hector is one of the high points of this critically acclaimed art-house film.

The Naked Gun 2 1/2: The Smell of Fear (1991). Griffiths' character Dr. Albert S. Meinheimer gets inadvertently pummeled by the late Leslie Nielsen, in a scene in which Griffiths displays a gift for facial expressions that silent-era movie comedians would have admired.