Roy Brown Jr.: He Was 'Mr. Edsel'
By Patrick Kiger, March 6, 2013 10:16 PM
Automotive designer Roy Brown Jr., who died on Feb. 24 at age 96 in Ann Arbor, Mich., had a long and mostly successful career for Ford, but he's best remembered for one spectacular miscalculation. The Ford Edsel, which lasted just three model years - 1958, 1959 and 1960 - was a moderately priced status car, aimed at upwardly mobile young families who weren't yet ready for a Lincoln Continental. Instead, it became one of the most infamous automotive flops ever, earning a spot on Time magazine's list of the " 50 Worst Cars of All Time."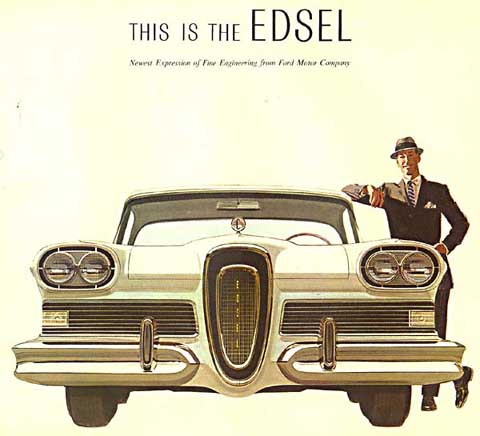 Here are 10 facts about Brown and his ill-starred creation:




The Edsel cost $250 million to develop, the equivalent of slightly more than $2 billion in today's dollars.

Ford set out to develop what public-relations executive C. Gayle Warnock described as "some kind of a dream car - like nothing they'd ever seen." To that end, the designers included numerous distinctive features that set it apart from other late-1950s American cars. The most obvious was the unorthodox vertical oval front grille, inspired by European limousines, but the car also incorporated technological advances such as a push-button transmission control on the steering wheel and a "unique warning light system" that would alert drivers when they were low on oil or gasoline.

When the car was under development, an advertising agency came up with a list of 18,000 possible names, but the company also turned to poet Marianne Moore. According to Bill Bryson's book Made in America, Moore's suggestions included Mongoose Civique, Utopian Turtletop, Resilient Bullet and Pluma Piluma. Eventually a Ford executive, Ernest Breech, decided to name the car after Henry Ford's late son, Edsel. That dismayed the researchers, who had tested that name already and found that 40 percent of consumers responded with "What?" when they heard it. "It fails somewhat of the resonance, gaiety and zest we are seeking," another Ford executive admitted at the time, according to historian David Lanier Lewis.

To promote the car, Ford sponsored an October 1957 TV special, The Edsel Show, which starred Bing Crosby, Frank Sinatra, Louis Armstrong, the Four Preps and Rosemary Clooney. It attracted 50 million viewers.

After the Edsel sold poorly in its first three months of release, in December 1957 Ford offered eight-inch plastic souvenir models of the Edsel if they would stop by the dealership for a test drive.

Brown also supervised the design work on the 1955 Ford Futura concept car, which later was acquired and transformed by George Barris into the Batmobile. Brown later designed British Ford's successful Cortina.

Five of the Edsel's seven model names later were repurposed for other cars, including two built by competitors: the Chevrolet Citation and the AMC Pacer.

Philosophy professor (and later U.S. Senator) S.I. Hayakawa wrote a 1958 essay (quoted here) in which he denounced the Edsel, criticizing what he called Ford's "efforts to turn out a car that would satisfy customers' sexual fantasies and the like."

In a 1985 interview with the Fort Lauderdale Sun-Sentinel, Brown attributed the Edsel's failure not to his design, but to Ford's mistake in trying to enter a market segment that already had too many competitors. The similarly priced DeSoto, he noted, was discontinued in 1958, the year after the Edsel's debut.

For years, Brown continued to drive an Edsel convertible when he was in Michigan. He recalled in the Sun-Sentinel interview that people often stopped him in the Edsel and offered to buy it. To which the Edsel's chief designer said that he usually replied, "Where the hell were you in 1958?"