The Best Roles of Peter O'Toole, Dead at 81
By Patrick Kiger, December 16, 2013 09:50 AM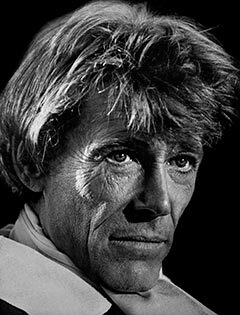 Long considered to be one of the most talented film stars ever, Peter O'Toole held what must have been a frustrating distinction. O'Toole, who died on Dec. 14 at age 81 in London, is the performer nominated most often for a best actor Oscar - eight times - without winning.

O'Toole, best known for his role as T.E. Lawrence in the 1962 epic Lawrence of Arabia, was passed over so many times that the Academy of Motion Picture Arts and Sciences finally decided to give him an honorary Oscar in 2002. The Irish-born actor, who at that point had racked up seven nominations, initially declined the honor, insisting that his career wasn't yet over. He relented the following year and showed up to accept from Meryl Streep what would be, he joked, "my very own Oscar now to be with me till death do us part."

Here are the films for which he could - or perhaps should - have won a statue.

Lawrence of Arabia (1962). O'Toole's portrayal of T.E. Lawrence was his most famous role, one for which he had to steel himself to ride a camel by drinking brandy. Gregory Peck won best actor for To Kill a Mockingbird.

Becket (1964). O'Toole's portrayal of Henry II, the British monarch who wanted to be rid of "meddlesome priest" Thomas Becket, pitted him against his costar Richard Burton. They both lost out to Rex Harrison in My Fair Lady.

The Lion in Winter (1968). O'Toole again won accolades for his portrayal of an older Henry II struggling to pick his successor. His costar Katharine Hepburn tied for best actress with Barbra Streisand (Funny Girl), but Cliff Robertson won best actor (Charly).

Goodbye, Mr. Chips (1969). At the time, New York Times critic Vincent Canby wrote that O'Toole had "never been better" than in his portrayal of stodgy prep school Latin teacher Arthur Chipping. Nevertheless, he lost out to John Wayne (True Grit).

The Ruling Class (1972). In O'Toole's most daring role, he portrayed a deranged British peer convinced that he was Jesus, who after receiving therapy and being seemingly cured, developed another, far more malevolent delusion. He was bested by Marlon Brando (The Godfather).

The Stunt Man (1980). O'Toole was masterful as domineering, increasingly-off-his-rocker movie director Eli Cross. The film's limited distribution hurt the buzz, and Robert De Niro took the honors for The Raging Bull.

My Favorite Year (1982). O'Toole's poignant portrayal of Alan Swann, a washed-up star of swashbuckling adventure movies playing out the string in television's early days, was one of his most acclaimed performances. Ben Kingsley won for the role of a lifetime in Gandhi.

Venus (2007). In his final nomination, O'Toole lost to Forest Whitaker (Last King of Scotland). But as a septuagenarian who falls in love with a headstrong young woman who takes advantage of his loneliness, O'Toole was as likable and charming as ever.


Photo: The Washington Post/Getty Images