The Marlboro Man Who Became an Anti-Smoking Activist
By Patrick Kiger, January 27, 2014 05:18 PM
Eric Lawson portrayed one of the most iconic characters in the history of advertising: the Marlboro Man, devised in the mid-1950s as a talisman of vigorous, healthy masculinity, even at a time of growing evidence that cigarette smoking was injurious.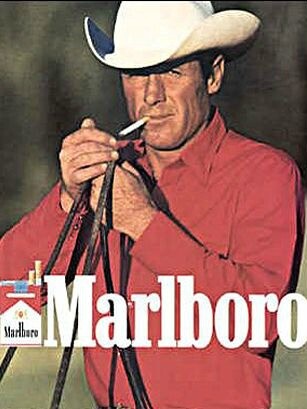 In real life, Lawson, who played the Marlboro Man in print ads from 1978 to 1981, ultimately paid a heavy toll for his own years of smoking. He died on Jan. 10 at age 72 in San Luis Obispo, Calif., from chronic obstructive pulmonary disease (COPD), a disease for which smoking is the primary risk factor, according to the American Lung Association. As Lawson's wife, Susan, told the Associated Press: "He knew the cigarettes had a hold on him. He knew, but he couldn't stop."

>> Sign up for the AARP Health Newsletter

But Lawson also exacted a measure of revenge on the tobacco industry. He later appeared in an anti-smoking commercial that parodied the cowboy character he had portrayed, and appeared in an Entertainment Tonight segment to warn viewers of the risks of smoking.

Here are some facts about Lawson and the advertising motif that he helped to demolish.

Lawson played bit parts on TV shows such as Baretta, The Streets of San Francisco, Charlie's Angels, Dynasty and Baywatch in the 1970s and 1980s.
After the Marlboro Man character debuted in ads and commercials in the mid-1950s, sales of Marlboro cigarettes soared 3,241 percent in a single year, according to Advertising Age.
In the early 1990s, Marlboro maker Philip Morris stopped using cowboys portrayed by actors, and shifted to promoting the brand as an accessory for outdoorsy young people who enjoyed "Marlboro Country," a rustic western landscape. The company even held a contest in which winners would receive a free trip to Colorado and Utah to go hiking, biking, rafting and horseback riding, according to a 1992 New York Times article.
Here's a classic 1966 Marlboro Man commercial. The music is a snippet of the movie theme song from The Magnificent Seven.




>> Get discounts on health services with your AARP Member Advantages.



Also of Interest



See the AARP home page for deals, savings tips, trivia and more