Tony Gwynn, Baseball's 'Mr. Padre,' Dies at 54
By Patrick Kiger, June 16, 2014 03:32 PM
In college, Tony Gwynn read Boston Red Sox great Ted Williams' how-to book, The Science of Hitting. It must have made an impression.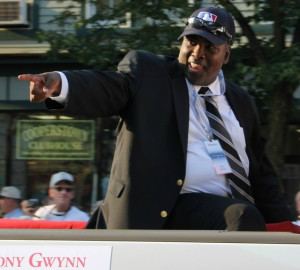 The stocky left-handed outfielder, who died on June 16 at age 54 in Poway, Calif., went on to build the sort of baseball career with the San Diego Padres from 1982 to 2001 that little boys dream about. He won eight National League batting championships (tying Honus Wagner's record), amassed 3,141 hits, had a .338 career batting average and was a 15-time All-Star.

>> Sign up for the AARP Health Newsletter 

Gwynn was beloved in San Diego not just for his hitting feats, but for his loyalty to his hometown. He was the rare professional athlete who played his entire career for one team, despite the prospect of getting a far bigger salary elsewhere. Here are six facts you might not know about Gwynn.

In his major league debut against the Philadelphia Phillies in July 1982, Gwynn had two hits, including a double. That prompted the Phillies' hitting star Pete Rose to quip, "Hey kid, what are you trying to do, catch me in one night?"
Gwynn hit only 135 home runs in his career, the most famous probably a rare home run off Yankee Stadium's right-field faí§ade against pitcher David Wells in the 1998 World Series.


>> Get travel discounts with your AARP Member Advantages.



Gwynn earned the nickname "Captain Video" because he was one of the first players to study his performances on videotape looking for ways to improve.
In 1994, Gwynn nearly became the first major league player to hit .400 since Williams in 1941. He was within striking distance at .394 in mid-August, when a players' strike ended the season.
After nearly matching Williams, Gwynn became friends with the star from a previous generation and helped steady Williams when he threw the ceremonial first pitch at the 1999 All-Star Game at Fenway Park in Boston.
Eligible for induction into the Baseball Hall of Fame in 2007, he received votes on nearly 98 percent of the 545 ballots cast by baseball writers.


Here's a video clip of Gwynn getting his 3,000th hit in 1999.




Photo of Gwynn in 2011: Krusty via Wikipedia



Also of Interest



See the AARP home page for deals, savings tips, trivia and more