Activists Who Burgled the FBI Come Forward - 43 Years Later
By Lisa McElroy , January 08, 2014 05:41 PM
The holiday season is the time for big-screen blockbusters. So perhaps it's appropriate that 2014 has ushered in a real-life tale of activists, break-ins, surveillance and the FBI that has all the makings of an action-packed, big-screen thriller.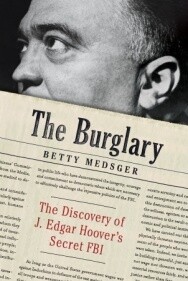 The story starts in 1971, with the Vietnam War still going strong and protests against it at their peak. One night, antiwar activists broke into an FBI field office in Media, Pa., and stole pretty much every document inside.
They hit a gold mine. The documents were largely about government surveillance, especially of the antiwar movement.
The burglars proceeded to anonymously mail some of the documents to journalists, leading to lots of questions about the FBI and its tactics. That pleased Keith Forsyth (now 63), who had been frustrated that his friends didn't believe him when he said the government had been spying on protestors. Indeed, many Americans who read the subsequent articles were outraged. The theft and ensuing stories infuriated J. Edgar Hoover, the director of the FBI, and helped to discredit him and his bureau.
Shades of Edward Snowden.
>> Sign up for the AARP Money newsletter
So why is this making news now, 43 years after the fact? Well, in the wake of all of the allegations of NSA eavesdropping fueled by Snowden's leaks, the burglars decided to come out of hiding. That may have something to do with the fact that they can no longer be prosecuted for their crimes. But still ... takes a lot of guts, if you ask me.
The burglars were after proof that the FBI was acting in nefarious ways - and got it. At the time, they were in their 20s and 30s; now they're in their early 60s to 80.
They were plenty careful. They cased the building. They pretended to be students to get inside. They broke open the door with a crowbar. They carefully packed documents into suitcases. Two of the burglars, John and Bonnie Raines, made plans for their children, just in case the couple ended up going to prison.
And, until recently, the group never met again.
Talk about a life of intrigue.
Want more of the story? This week, Random House is publishing a book about the crime, written by Betty Medsger, who originally covered the break-in story for the Washington Post.
>> Get travel discounts with your AARP Member Advantages.
Also of Interest

See the AARP home page for deals, savings tips, trivia and more