Wanted (Now!): Great Ideas for 26 U.S. Cities
By Melissa Stanton, October 1, 2015 06:02 PM
Last fall, the Knight Foundation issued a challenge seeking "compelling and innovative" ideas for improving the 26 cities where the Knight brothers (John S. and James L.) once owned newspapers.

They're doing it again this October by inviting everyone and anyone (individuals, groups, nonprofits, for-profits, governments) with a great idea that will advance talent, opportunity or engagement to submit ideas for a chance to receive some of the $5 million in 18-month grants Knight will be awarding at the city, neighborhood and block level — "and all sizes in between."

The application period opened Oct. 1 and closes Oct. 27. (Finalists will be announced in January and winners in March.)

While applicants needn't be from a Knight city, the work must take place in one. The cities are listed in red.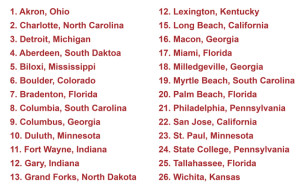 The challenge: Submit an idea about "how to use shared and public spaces to attract talented people to the city, expand economic opportunity by building connections and breaking down divides, and encourage a culture of civic engagement."

Unlike grant proposals and most applications, the Knight one is simple and short. The initial application asks just three primary questions that should be answered in 100 words or less.

Among last year's 32 winning ideas:

The Pop-Up Pool Project used its $297,000 winnings to transform a dilapidated city swimming pool and turn it into what Philadelphia magazine calls "a template for a completely reinvented public space and community hub."

Unbox Akron earned $52,168 for an Akron, Ohio, subscription-based city program that delivers a "monthly selection of local goods and experiences in a box."

Porch Swings in Public Places received $28,000 to install Southern-style porch swings where passersby could sit and, ideally, strike up a conversation with a neighbor or stranger.

See all of 2015's winning ideas. Put your thinking cap on and get ready to apply at KnightCities.org.


---



YOU MAY ALSO LIKE

Learn more about the AARP Livable Communities initiative by visiting aarp.org/livable

Subscribe to the AARP Livable Communities Monthly eNewsletter at aarp.org/livable-newsletter