Super Bowl Cities Are Champs at Creating Livable Communities
By Nancy LeaMond, February 3, 2016 07:30 PM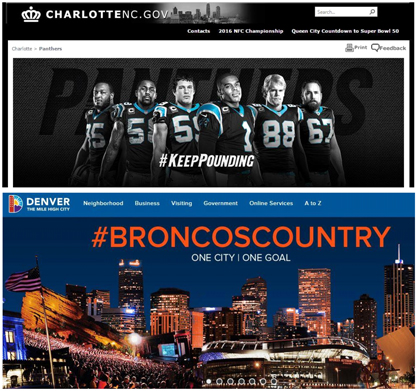 Can you believe the 2015 football season is drawing to a close? Indeed, Super Bowl 50 is this Sunday, Feb. 7: Peyton Manning's Denver Broncos vs. Cam Newton's Carolina Panthers.

While I am a baseball fan first and foremost, I do make time on the weekends in the fall and winter to watch NCAA and NFL football. Although Carolina vs. Denver sounds like it's going to be action packed, I'm mostly looking forward to the game because of the subplots:

• Is this Manning's last game?
• Can Carolina finish the season with only one loss?
• NFC vs. AFC
• East vs. West

The Super Bowl is like — because in a way it is — the exciting culmination to a book. You never know what could happen. What play might win the game or who will make it. And, while both of these cities have a lot to be proud of with their football teams, it's important to note that each city is known for a lot more than just football. Both Charlotte, N.C., and Denver are at the heart of the movement to create more livable, walkable communities. (In fact, Denver is a member of the AARP Network of Age-Friendly Communities, having joined in July 2014.)

Over the years, a series of leaders in the Queen City (Charlotte) and the Mile High City (Denver) have made large and small investments to help shape their communities into places that are easy to get around and value residents of all ages.

DENVER
• Mayor Michael B. Hancock has made a point of increasing the accessibility of mass transit for people who live in the area. He's led the expansion of Denver's regional light rail system, RTD, to include four new lines and connect Denver to its airport. The expansion of the light rail was coupled with a bus rapid transit line that connects riders from as far north as Boulder.

• Additionally, Hancock is committed to providing affordable housing options in the city. Recently — much like other major cities in the U.S. — Denver's citizens have found it more difficult to find affordable rental units within the city. Under its affordable housing plan, Denver will help finance more than 4,500 new rental units.

CHARLOTTE

• Charlotte, like Denver, has made increasing mass transit a priority by doing so both within its borders and in outlying areas. There's a plan to extend the light rail system north toward the university area and south to the suburbs, with a street car system proposed for within the city. The LYNX Gold Line — which was proposed by Anthony Foxx, the city's former mayor, now U.S. secretary of transportation — is one example of how streetcars are enabling residents to travel between nearby communities and downtown without a car.

• Charlotte also has added bike paths and trails — most notably the Cross Charlotte Trail. The XCLT, as it's known, connected existing trails to form a larger 26-mile trail that extends from Pineville to the University of North Carolina-Charlotte.

• Mecklenburg County, where Charlotte is located, also has developed a program called Livable Meck. The program focuses on how the city and greater metro area can together become a livable community.

I'm impressed by the efforts both cities have put forth to make their communities more livable for the people of all ages who live there: children, parents and grandparents. Here at AARP, we are working with both cities — and hundreds of others across the nation — to help make their livable dreams a reality.

No matter whom you'll be cheering for this Sunday, know that both teams' cities are already winners in my book — they are leading the charge to make American cities more livable.

Enjoy the game!

Nancy LeaMond is the AARP executive vice president for community, state and national affairs. Follow her on Twitter @NancyLeaMond.


---

Learn More About AARP's Livable Communities Work