"Planning for Aging" is Taking Off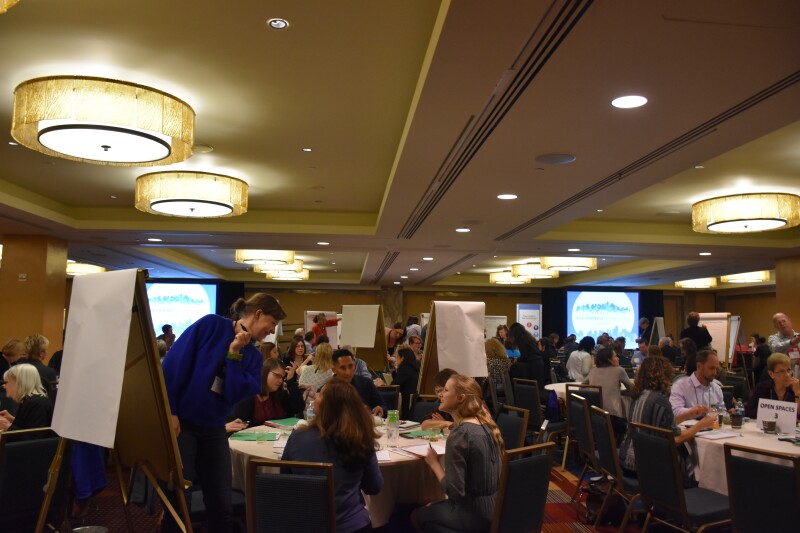 One of the most exciting developments in the livable communities movement is the increasing collaboration between aging professionals and planners—professionals who shape the form and function of future communities. Some incredible progress was made on this front at the 2018 Livable Communities for All Ages (LCA) Summit in San Francisco March 29.

Over two hundred planners and aging professionals experienced what this cross-sector planning looks like and committed to collaborating better moving forward. The summit, which took place at the American Society on Aging's (ASA) annual Aging in America Conference, was a collaborative initiative led by AARP, AARP California, the American Planning Association (APA), and ASA.

The National Viewpoint
After introducing the topic, I was excited to moderate an outstanding nationally recognized panel featuring Dr. Rodney Harrell, AARP Director of Livability Thought Leadership, and Jenny Raitt, Director of Planning and Community Development with the Town of Arlington, Massachusetts. A key finding from a recent AARP-APA international survey kick-started the conversation. When we asked planners around the world why the local government that they work with included an aging lens in their planning work, 50 percent of them indicated it was a priority identified during a community planning process such as a public hearing.

This lesson was reinforced by the panel, which discussed the contributions and roles that each of the two professions play in advancing LCA at the local level. When panelists were asked what they need from the other profession in order to successfully advance this work, Raitt indicated that aging professionals need to attend public planning meetings and speak up. Harrell, meanwhile, emphasized the need for planners to show their commitment to creating livable communities for people of all ages.

Local Insights
Three local Bay Area presenters then shared tangible promising practices and illustrated what these look like once implemented. Transportation expert Naomi Armenta, Senior Associate at Nelson/Nygaard Consulting, placed an emphasis on communication and the importance of identifying mobility champions. She also suggested community outreach using pop-up demonstrations to highlight problematic aspects of the built environment. For example, a pop-up at a dangerous intersection could also record public input and use this later to generate broader community-wide conversations online through social media.

Next, housing planner Denise Pinkston shared lessons learned from California's mandated Accessory Dwelling Units ordinances and their implementation. She said that the housing market is broken for many reasons starting with affordability and indicated that "California is becoming the 'golden state' because only wealthy people can live here anymore." Pinkston charged us to rethink associated rules and make them more inclusive, and she placed the onus on planners, who "once again need to be thought leaders and problem solvers in this area."

Finally, Smart Growth advocate and author Matthew Raimi discussed a number of innovative planning solutions. He highlighted planning trends that support age-friendly communities, including efforts to retrofit suburbia with different functions—or mixed-uses—with particular attention to elements like pedestrian circulation and accessible open spaces, as well as efforts to create greater housing diversity.

The summit's intentionally local focus (i.e., presenters, planners, and projects) aimed to not only educate participants from around the country, but also to spark relationships and catalyze continuing efforts on the ground in California. Indeed, local leaders are moving quickly to capture the momentum. For example, a mini-LCA Summit has been proposed for the state-wide APA conference taking place in San Diego in September. And the most exciting outcome is that at the summit's closing, APA Northern California Section Director Sharon Grewal announced commitments to further this work. Grewal promised to appoint a Planning for Health Coordinator to bridge the gap between health and aging professionals and community planners, and to create a Task Force to "focus on further breaking down barriers and fostering collaboration among urban planners, aging network partners, and other professionals to advance livable communities for people of all ages and abilities." (So all of you Northern California participants, please be on the lookout—you will be receiving a call to action!)

Momentum Built
With the growth of these summits and related initiatives, we are excited to continue building the knowledge base around how planners and aging professionals can collaborate better to plan livable communities that are age-friendly across a longer lifespan. As we did with last year's summit, we surveyed 2018 summit participants in advance of the event and will conduct a six-month follow-up survey to hear what planners and aging professionals have done in their communities based on summit takeaways and relationships established. Stay tuned for report-outs on that front as well.



About this Author: Stephanie Firestone is a senior strategic policy advisor with AARP International. As an urban planner, Stephanie leads efforts aimed at incorporating aging considerations as a normative part of local planning practice—both nationally and internationally.