401(k) Accounts Head North Amid Market Gains
By Carole Fleck , January 30, 2013 01:07 PM
Need a pick-me-up to go with your morning cup of coffee? Try checking out your 401(k) account. It should be fatter today.
As the stock market continues to climb, so do our retirement accounts. In the last week, in fact, our portfolio balances likely increased by much more than we expected.
[ Retirement shortfall? See how to get back on track.]
The Dow Jones index is up by nearly 2 percent in the last week, flirting with the high 14,000 mark. The S&P is up 1 percent and the NASDAQ is up half that. But in the last month, the indexes are up by about 5 percent, a hefty gain.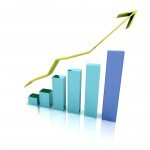 Our household net worth is also growing again, thanks to gradually improving real estate values. We're still not saving enough for retirement but perhaps we're just a little bit farther along, says Bernard Baumohl, chief economist at the Economic Outlook Group.
"With the stock market on fire, 401(k)s have now risen to a point where a lot of Americans feel much more comfortable," Baumohl says. "We've seen a significant increase in household net worth. Americans recovered more than 80 percent of the losses that were suffered during the recession."

There's a lesson to be learned here. Sure, the recession frightened most of us. Some of us retreated from the stock market, despite that wealth planners urged us stay put. If you remained in the market between then and now, you may be nearing a complete recovery, or even better. One report said investors who left their money alone in the stock market saw 65 percent growth in their balances between 2008 and 2011.
A steadily improving economy is among the reasons for the rising markets, despite the slight contraction in the GDP in the last quarter of 2012.
Consider that:

The housing market is recovering noticeably, fueling economic growth
Employers are hiring more, though unemployment remains high
Small investors are spending billions to buy stock-laden mutual funds
Lawmakers put off budget decisions until May
The Federal Reserve reiterated its commitment to sustain low interest rates to spur spending and investment
So as the economy improves, so might our personal finances. Baumohl says our debt levels, or more specifically, the money we allocate from our paychecks to pay our bills, is at the lowest level is about 30 years.
Stuart Ritter, a senior financial planner for T. Rowe Price, says that is surely good news. But he also says that we should not let today's headlines influence our retirement planning goals.
"You should have a strategy put in place for your goals and you should stick to that strategy when the market is better than average or worse than average," he says. "The fact that we have a good day or a bad day, or week or month, should not change your long-term investment strategy."
Photo credit: Micky.! via flickr.com