5 Fun, Frugal Halloween Decorations
By Jeff Yeager, October 17, 2012 02:51 PM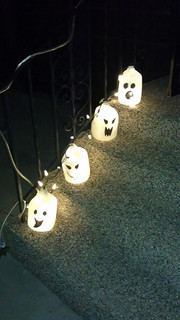 For me, the scariest thing about Halloween is something I read in the paper the other day. This year, Americans who celebrate Halloween will spend an average of $80 per person on costumes, decorations, treats and such. That makes Halloween an $8 billion a year holiday, second only to Christmas when it comes to consumer spending. For a cheapskate like me, that's truly frightening.

See also: Eat your jack-o'-lantern

Don't get me wrong, I've always enjoyed celebrating Halloween. But ever since I was a kid, part of the fun has been getting creative and seeing how much Halloween horror you can cook up with things you already have around the house. Halloween is probably the best repurposing holiday of all.

Check out these homemade Halloween ideas:

Plastic gallon milk jugs decorated with permanent markers and illuminated with simple white LED lights make a ghostly decoration for inside or out.
Why pay for fake blood? You can make your own by mixing together 2 tablespoons of corn syrup, with 6 drops of red food coloring and 1 teaspoon of cocoa mix. Not only realistic, but good enough to eat!
Cut pairs of scary eyes in the side of cardboard toilet paper or paper towel tubes and insert a glow-stick in the tube. Position them in trees and shrubs around your yard and inside the house to freak out visitors.
If you have some old chicken wire left over from gardening, twist/sculpt it into life-sized "lawn ghosts" and spray print them with bright white or fluorescent paint. The wispy figures look haunting during the day and even creepier at night if you backlight them.
And no holiday (or any other day!) would be complete without repurposing some worn out pantyhose. Cut and stretch them across spaces and then paint cobweb patterns on them.
For inexpensive Halloween costume supplies for everyone in the family, look no further than your local thrift store. That oversized suit coat is must-have apparel for the perfect Frankenstein and a second-hand prom dress (and some fake blood) will transform a woman into "Carrie."

After Halloween you can even donate your costumes back to the thrift store for a tax deduction. Now, "taxes," that's really scary.

Photo credit: sumopotpie via Flickr.