AARPMoney Twitter Chat Wrap: Lynnette Khalfani-Cox
By Deb Silverberg, January 10, 2012 05:41 PM
This is a guest post by Tara Finnegan Coates, editor for money and work content on AARP.org.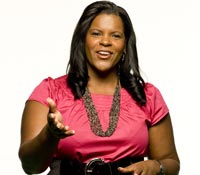 Thanks to everyone who had a chance to participate in our twitter chat Tuesday with AARP money expert Lynnette Khalfani-Cox ( @themoneycoach). Lynnette is currently hosting the AARP Pay Down Your Debt Challenge through Jan. 29 on AARP.org.

In case you missed it, here's some of the highlights from the chat.

Americans racked up $20B on credit cards in November.
Total debt (housing included) should probably be kept to 36% or so of income to stay in a "safe" zone
The APR on a loan is really just the true overall cost of credit: the interest rate charged plus the fees involved.
Good debt=mortgage, student loans, biz loans. Bad debt=credit cards, auto loans.
For more tips and a chance to win prizes by sharing your debt and money lessons on AARP, sign up for the Pay Down Your Debt Challenge. View a video message from Lynnette below.