Affordable Family Reunion Tips
By Jeff Yeager , July 22, 2013 12:04 PM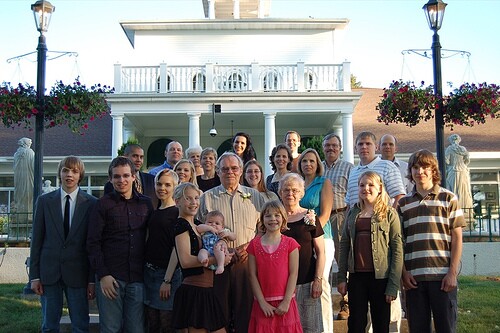 Summertime is family reunion time! Seeing the entire clan at a family reunion can be a lot of fun, but it can also get pretty pricey. And you definitely don't want anyone in the family to feel uncomfortable or not attend because of the cost. Here are some tips for keeping it cheap, and keeping it fun.
Make your reunion an "e-union:" The most efficient and cost effective way to put the word out for any event is via the Internet. Loads of websites allow you to design and send out personalized family reunion "evites" for free. Creating a private Facebook page for your family or even specifically for your family reunion allows you to keep in touch year-round and share reunion information, photos and videos. Be sure to have relatives update their email and other contact info when you see them at the reunion. You could also have a laptop available at the reunion for people to update their 411.
Location, location, location: Finding a location for your reunions that's convenient to everyone and affordable can be a challenge. Not everyone has an old family homestead at which everyone can gather. A lot of families, including ours, take turns hosting everyone at our homes, which spreads around the work as well. Public parks (particularly local and county parks), community facilities like American Legion halls, and churches sometimes make their facilities available for family reunions at a reasonable price. If you're planning a reunion lasting more than a single day or if family members are traveling from afar, consider renting a cottage as an economical way of housing everyone and allowing them the option of preparing their own meals.
Potluck with a twist: It really wouldn't be a family reunion if it wasn't a potluck, would it? To make sure there's enough to eat, ask everyone to bring a side dish but consider collecting a small per person contribution to cover the cost of the main/meat dish. Since every family seems to have their own cooking superstars and favorite family recipes, ask folks to bring pre-printed recipe cards for the special dishes they've prepared so that others can take them home. Who knows? Eventually they might morph into an official family cookbook.
Hold a free stuff swap: For some cheap fun, set aside a space at the reunion where family members can put unwanted household items and clothing that someone else in the family might want. It's a great way to declutter, save money, and "keep it in the family."
Collect and share family history: My wife's family has been holding its annual reunion every August for more than 65 consecutive years! That means that the first reunion probably included her great-grandparents, who were first-generation Americans. Take some time during your reunion to capture some of your family's history, and maybe even set up a video camera to record family members telling their stories and sharing recollections. It's a free - and fascinating - activity to add to your reunion, and future generations will thank you for it.
Photo: artgoeshere/flickr
Also of Interest

Join AARP: Savings, resources and news for your well-being
See the AARP home page for deals, savings tips, trivia and more