Making a Fresh Financial Start in 2012
By Deb Silverberg, January 4, 2012 12:18 PM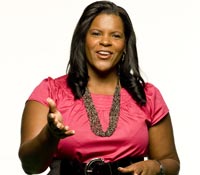 This is a guest post by Lynnette Khalfani-Cox, host of the AARP Pay Down Your Debt Challenge, which is taking place on AARP.org through Jan. 29. Learn how to get started paying down your debt, join the Pay Down Your Debt group, and you could have a chance to win a prize.

Lynnette will have a Twitter chat on @AARPMoney. Tuesday, Jan. 10, 3-4 pm EST. Ask her questions and follow via #debtchat.

Happy 2012!

I always love the start of a New Year. Notwithstanding the cold weather on the East Coast where I live, I relish the change of seasons and the change of year because both represent a fresh start.

No matter what happened in a previous year, a New Year is always full of promise, opportunity and a chance to get things right.

That's why people make New Year's resolutions time and time again. They're taking stock of what was, and getting hopeful about what could be.

Many of us are thinking about our health, our relationships, and our personal goals. And if you're reading this post, chances are you're also thinking of your finances in this New Year.

Luckily, 2012 stands a good chance of being a year of financial progress and fiscal breakthroughs after several tough economic years.

I know the economy hasn't yet turned around. But it has turned the corner.

Here are a few bright spots to consider.

Unemployment: Yes, we still have about 14 million people out of work and the jobless rate is at 8.6 percent. Nevertheless, the hiring outlook is stabilizing; some say brightening. About 23 percent of hiring managers say they plan to add staff in 2012, a survey from CareerBuilder has found. That may not sound like much, but when you consider that 70 percent of companies will maintain their staffing levels and just 7 percent will reduce their workforce, you can see that employment prospects are improving nationally.

Even more promising, though, is that half of all small businesses in the U.S. plan to hire in 2012, according to a report by the payroll services firm SurePayroll. Equally important, 56 percent of all small business owners said they will likely raise wages for some or all employees.

A rosier jobs picture could be just the ticket you need to help straighten out your finances and better manage your credit and debt in 2012.

Credit: And speaking of credit, after holding the purse strings super-tight for a few years, banks are starting to loosen their grip on lending. More banks are offering home loans, an increasing number of credit card issuers are soliciting customers with competitive, low interest rates, and lenders are picking up activity to help finance entrepreneurs. And since small businesses represent most of the job creation in America, all of this is good news for those who truly need credit or loans for personal reasons or to expand their business operations.

What does all this mean for you? For starters, it should give you hope that as you work to improve your own financial circumstances, the environment in which you have to operate won't be as treacherous as it had been in recent years.

It also means that 2012 could mean your chance for a "do over" if you've had credit or debt problems in the past.

Stocks: If you've been watching your retirement portfolio dwindle or have gotten queasy tracking all the ups and downs in the stock market, 2012 may provide some comfort. In fact, the prognosis for stocks is actually pretty good, statistically speaking at least.

2012 is an election year, which stacks the odds in our favor financially. Over the past 100 years, the stock market has fallen just three times during a presidential election year.

As January progresses, we'll be here at AARP to answer your economic questions and tackle the tough personal finance challenges you may face. No problem is too big or too small.

Just think of the Pay Down Your Debt Challenge like the New Year: it's your chance for a fresh start.




Lynnette Khalfani-Cox, The Money Coach®, is a personal finance expert, television and radio personality, and a regular contributor to AARP. You can follow her on Twitter and on Facebook.

Editor's Note: Watch Lynnette's recent appearance on "The Talk".