Measly Social Security COLA Announced for 2013
By Carole Fleck, October 16, 2012 08:45 AM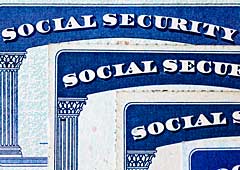 You won't be rolling in dough with next year's Social Security cost-of-living adjustment at 1.7 percent - about $21 a month more for people collecting the average retirement benefit of $1,236.

[See our full story on the COLA].

Some 56 million beneficiaries will see the increase in their payments beginning in January. It's one of the lowest since Social Security COLAs were adopted in 1975.

Not to add insult to injury, but that $21 is likely to be reduced by a rise in the cost of Medicare premiums for 2013. An announcement on those Medicare premiums is expected later this month.

The 3.6 percent COLA for 2012 doesn't seem half bad now. But when you consider that there was no raise at all for 2010 and 2011, that 3.6 percent spread over three years averaged under 1.5 percent, hardly enough to keep pace with higher food and energy costs, let alone medical expenses that have outpaced inflation for years.

So what's a person living mostly or solely on Social Security to do? A financial planner I interviewed said there were few options to recommend for increasing your income because you can't afford to take risks by investing in the market, and fixed income investments are paying next to nothing.

So perhaps the best route is to look for ways to decrease your spending - shop around for better rates on home or auto insurance, refinance to a lower interest rate, lower the thermostat in winter and find other savings anywhere you can.

You also may want to contact your representatives on Capitol Hill and tell them not to adopt a new inflation measure that will result in a lower COLA. The new formula, known as the chained Consumer Price Index, has the support of some Democrats and Republicans alike - it's included in a number of deficit reduction proposals. If it's passed and signed into law, you can expect a lower Social Security COLA as early as 2014.

AARP [see our statement] and other advocacy groups are opposed to the switch to the chained CPI.

Nancy LeaMond, AARP executive vice president, released a statement on the 2013 COLA, saying it helps millions of older Americans maintain their standard of living and keeps many out of poverty. Lowering the COLA would only increase the hardship for those recipients.

Sen. Bernie Sanders (I-Vt.) agrees.

"The method for calculating inflation for seniors is broken," he said in a statement. "Instead of fixing the problem, some in Washington and on Wall Street want to make a bad situation even worse by cutting benefits for senior citizens and veterans through a so-called chained CPI. It would be a shock to millions of seniors and disabled veterans to learn that some in Washington think their current COLAs are too generous."

Retiree Clo Banks, 72, told me that she traveled from Las Vegas to Washington last summer to tell Congress "to keep their hands off my Social Security." Banks lives entirely on her Social Security check; she has no other income. She never expected to be struggling at this point in her life.

She says the last thing she needs is an even lower COLA.

Some other tidbits:

Higher earners, get ready to pay more in taxes come January. The maximum amount of earnings subject to the Social Security tax will increase to $113,700 from $110,100. Of the estimated 163 million workers who will pay Social Security taxes in 2013, nearly 10 million will pay higher taxes as a result of this increase.
The years with the biggest COLAs: 1980 - 14.3 percent; 1981 - 11.2 percent.
Photo credit: Istock photo