Medicare Patients Spend Thousands Out of Pocket at End of Life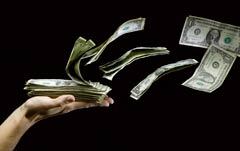 Using data from a national longitudinal survey, Mount Sinai professor Amy Kelley looked at out-of-pocket medical costs near the end of life and uncovered some sobering statistics. A whopping 43 percent of Medicare patients end up spending more than the total value of their assets, excluding real estate, on end-of-life care, while 25 percent spent all their assets including any money from home or property.

Overall, the average Medicare patient spends more than $38,500 out of pocket during their final five years. But the study, published online in the Journal of General Internal Medicine, found considerable differences in cost averages depending on an individual's circumstances. For instance:

- More than 75 percent of households spent at least $10,000
- For those in the top quarter of spending, the average was nearly $102,000
- Single people spent all of their remaining assets on medical care more often than married patients
- Patients with gastrointestinal or liver disease spent an average of just over $31,000
- Patients with Alzheimer's disease spent an average of more than $66,000
"Medicare provides a significant amount of health care coverage to people over 65, but it does not cover co-payments, deductibles, homecare services, or non-rehabilitative nursing home care," said Kelley in a statement. "I think a lot of people will be surprised by how high these out-of-pocket costs are in the last years of life."

Tuesday Quick Hits:

- New Dylan album gets dark. On his 35th studio album, Tempest, Bob Dylan gets bluesy, "groove-centric" and gloomy; the title song is a 14-minute, no-chorus epic about the Titanic.
- Getting Social Security numbers off Medicare cards. Critics have long been calling for the info to be removed to help combat identity theft. But Centers for Medicare and Medicaid Services officials told Congress in August that "transitioning to a new identifier would be a task of enormous complexity and cost."
Photo: Getty Images