Save on Gas When You Travel This Summer
By Jeff Yeager, April 09, 2013 01:48 PM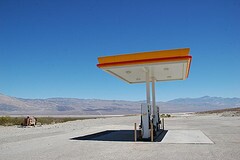 Gas prices these days remind me of temperatures across much of the country: way up one day, down the next, then up again.

See also: Take our gas savings quiz!

But just as certain as the fact that summer's heat will eventually arrive in full force is the fact that, over time, gas prices will only continue to increase. You don't have an economist - or even a cheapskate - to figure out that petroleum is finite resource. As supplies dwindle and demand increases, prices are only going to go up, up, up over the long run. That's why investing in things that reduce your energy consumption or rely on renewable sources of energy is a smart cheapskate move.

Join the discussion: Where will your summer travels take you?

This week's episode of my YouTube series The Cheap Life is filled with tips for reducing your pain at the gas pump, just in time for the summer driving season. Check it out and be sure to leave me your gas savings tips for a chance to win a $50 gift card! That should buy you half a tank or so.



And speaking of spending less on gas, remember that next month is National Bike Month (as in bicycle). This is a great time of year to break out that bicycle that's been hibernating in your garage all winter, or pick up an inexpensive set of two wheels at a yard sale or thrift store. As we cyclists like to say, "Burn fat, not oil."

Photo credit: raindog via Flickr.