Avoid Through the Roof Costs on Home Repairs
By Jeff Yeager, September 8, 2011 06:42 AM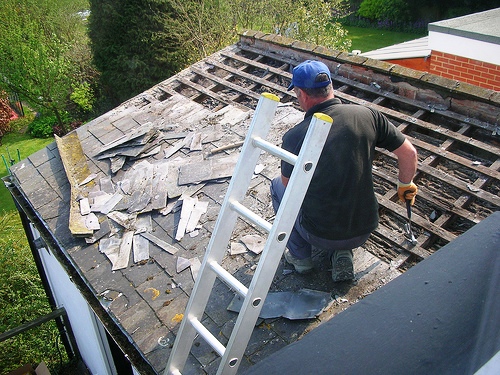 We have a rather eclectic "California contemporary" style home built in the 1940s. Some visitors say it reminds them of Frank Lloyd Wright's Fallingwater in western Pennsylvania.

I don't know about that, but for the past couple months we've had impressive streams of falling water from our living room ceiling.

My first rainy day solution: a bucket by my easy chair. More rain came. Turns out my wife wasn't keen on a bigger bucket. And having put on the roof myself 15 years ago, my older back wasn't up to an encore.

Here are the steps I took to get a cheapskate deal on high-quality work...and you don't need falling water of your own to use this approach for any major home project.

1. I spent a couple of hours online and went to my local library to learn about the pros and cons of different types of materials that might be a match for our nearly flat roof.

2. I looked online for roofing contractors in our area who specialize in flat roof replacements (licensed and insured, of course). I also spoke with a couple of neighbors who recently got new roofs. The result: six qualified and experienced local contractors.

3. I scheduled individual appointments so each could see the roof and provide written bids. When they left, I jotted down notes so I wouldn't get them confused with each other. (FYI: Apparently all roofing contractors in southern Maryland look alike and drive identical F-150 pickup trucks.)

4. The most valuable step in the process: I reviewed all the bids with a contractor friend from the Midwest. It took him a few minutes to look at the bids and give me impartial-and invaluable-advice on the pros and cons of each. If you don't know someone like him, ask a friend or family member in another part of the country if they do.

Drumroll, please...

The bids varied greatly, based mostly on the type of materials they proposed. The most expensive was more than twice as much as the least.

With my friend's help, we ruled out three of the six based on the materials and specifics of each bid. I then checked out the other three through the Better Business Bureau and Googled their company names to see if anyone had posted positive or negative comments. A red flag immediately popped up on one: multiple unresolved complaints from recent customers.

The two remaining companies both seemed to have good reputations, and both proposed a similar scope of work and materials. I had a better personal impression of one contractor (if, that is, I actually remembered the right guy!)-but his bid was $500 higher than the other.

I called and said I really wanted to do business with him but his bid was high...he'd need to sharpen his pencil to get the job. He asked, but I wouldn't tell how much higher his bid was. An hour later he called back and said he'd knock off $950 if I could work around his schedule. No problem!

We have a new, watertight roof over our heads-plus a nice little savings of $450 off the next best bid. Heck, think of all the buckets I could buy with that.

Photo by David Train via Flickr Creative Commons