Save During National Eye Exam Month
By Jeff Yeager, July 30, 2012 10:24 AM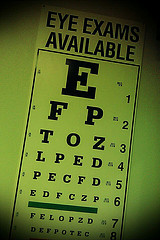 "D, E, F, P, C, Z, L," I said with smug confidence.

"Well, if you say so. But you missed a couple on that last line. You should see an optometrist and get a checkup," the examiner at the Maryland Department of Motor Vehicles said.

See also: More ways to save on health expenses

I was shocked. Having had near perfect vision my whole life, when I went to get my driver's license renewed in my mid-forties, I discovered that the years were taking a toll on my eyesight. But what concerned me even more was - until that moment - I had no idea whatsoever that my eyesight had diminished in the slightest.

August is National Eye Exam Month, a month-long wakeup call for anyone who hasn't had their eyes tested recently. Remember, investing in your health - particularly in preventative and early detection measures - is one of the smartest investments you can make, even if you're a cheapskate like me. According to the Mayo Clinic, adults age 40-65 should have their vision checked every two to four years. Once you're 65 or older you should have it checked every year or two. A complete eye exam involves a series of tests to evaluate both your vision and check for diseases of the eye.

During the month of August, many optometrists will be offering special incentives and discounts on eye exams and corrective eyewear. The Foundation of the American Academy of Ophthalmology sponsors a program called EyeCare America under which people 65 years and older may qualify for a free comprehensive eye exam. To see if you qualify, go to EyeCare America's website.

And although they're not a substitute for a full eye exam conducted by a qualified professional, there are a number of free online eye exams that only take a few minutes to complete and are a good self-checkup between regularly scheduled eye exams.

The good news is that - after my eye-opening eye exam at the DMV that day - my optometrist confirmed that my vision problems are modest and typical for people my age. The bad news is, in doing so she also confirmed that I ain't getting any younger.

Photo credit: whatatravisty via Flickr.