Spring Cleaning Cheapskate Style
By Jeff Yeager , April 02, 2013 12:28 PM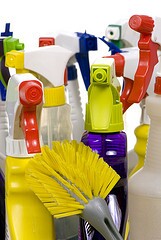 Several years ago I resigned myself to the fact that we live in the kind of house that's better cleaned with an heavy duty wet/dry vac than a traditional vacuum cleaner like most folks use. If you live in a semirural, ultra-muddy area and heat your home primarily with woodstoves like we do, then you know what I mean. By late winter, much of our house looks more like a barn or sawmill.
With the crocuses, daffodils, and forsythia in full bloom and the woodstove (hopefully!) shut down until next fall, I'm ready to launch an all-out spring cleaning campaign to get our house and yard in shape for the warmer months ahead. To further motivate me, I've discovered over the years that spring cleaning need not be expensive and, in fact, can actually save or even make you money if you do it correctly.
In this week's episode of "The Cheap Life," I share some of my tips for spring cleaning cheapskate-style. So grab your feather duster and sponge mop, and head on over to YouTube for some money-saving spring cleaning advice and laughs. While you're there, be sure to leave me your favorite cheapskate cleaning tips and you might win a $50 gift card!

Photo credit: The Survival Woman via Flickr.
Also of Interest

Join AARP: Savings, resources and news for your well-being
See the AARP home page for deals, savings tips, trivia and more