The Ultimate Cheapskate on "How to Retire the Cheapskate Way"
By Tammy Gordon, September 21, 2012 06:30 PM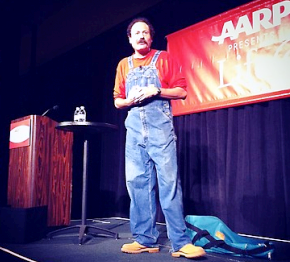 Folks who were lucky enough to be in New Orleans for Life@50+ National Event got a taste of the cheap life from AARP's savings expert and Ultimate Cheapskate Jeff Yeager. Think living frugally has to be boring? Think again - and Jeff's session was anything but.

Jeff shared some advice from his upcoming book, How to Retire the Cheapskate Way: The Ultimate Cheapskate's Guide to a Better, Earlier, Happier Retirement (due out in December). A lot of what he shared is applicable for folks at any age. And the earlier you adopt a frugal and fun lifestyle, the sooner you'll be able to retire.

Did you know that the average American will pay over $600,000 in interest on debt over a lifetime? That's a pretty scary stat. And while we all want to have nice things and have fun, frugal isn't the enemy of fun. Jeff thinks we all need to be our own CFOs (Chief Frugality Officers) regardless of age and life stage and whether we're single, married, or supporting others - and whether we're a year from retirement or decades away.

Living large and having a rich life doesn't have to mean spending a lot. Jeff points out that cheapskates are twice as likely to travel outside of the U.S. because they plan smart and they know how to live like locals when they travel.

Jeff also is a big advocate of reality-based retirement planning, which focuses on what your actual retirement expenses will be (this free calculator from AARP can help you do that).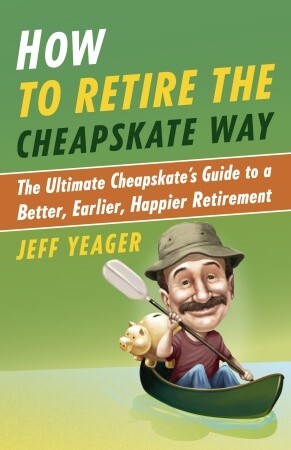 Unlike most retirement planning and lifestyle books that focus on investing - or at the other end of the spectrum, on how to get the senior discount on a Grand Slam Breakfast at Denny's -Jeff's new book makes the compelling case that you can have a joyous, worry-free retirement by spending smart and focusing on what you truly want and expect out of retirement.

By the way, we should mention that Jeff called the event "one of the biggest bargains I've ever scored." Read his post to see why he said "his Christmas shopping is pretty much done, thanks to all the freebies I came home with."

Want to experience Life@50+ for yourself and see what a bargain it is? Next year there will be two Life@50+ Events, one in the Spring in Las Vegas and one in the Fall in Atlanta. And make sure to catch up on Jeff's blog posts - his tips will help you save enough so you won't be able to afford not to go.

Want more advice on saving money and having fun on a budget? Join Jeff Yeager when he hosts our Fall Savings Challenge kicking off October 1, and follow @AARPMoney on Twitter.