Being There to Say the Final Goodbye
By Laura Hahn , September 23, 2014 11:22 AM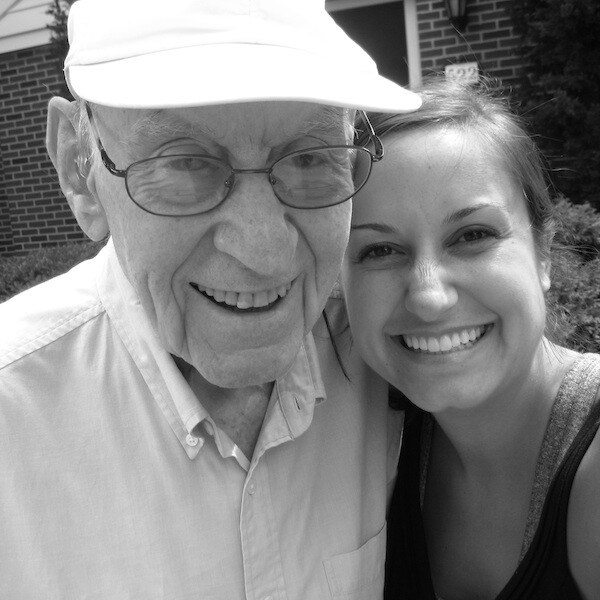 Two years ago this month, I sat beside my Pop Pop as he died. I can't help but cry as I type that, but this isn't a sad story.
Pop Pop was 96 years old. He was born in 1916. By Sept. 13, 2012, the day he passed, he'd been my mom's dad for almost exactly 60 years. He'd been my grandfather for 30.
Running the numbers didn't comfort me that day, though. It didn't compute. My friend was taking his final breaths. It didn't matter that he'd lived two decades longer than the life expectancy. His age didn't somehow make it easier. He was leaving. This was it.
>> Celebrity Couples Over 50 — Still Crazy for Each Other
What did bring me comfort was being there and knowing that I'd said everything I wanted to say. I had told him I loved him hundreds of times, in hundreds of different ways. We'd talked about life and love, family and friendship, death and dying. We'd even had that conversation in the cemetery.
"That's where your grandmother and I will be," he said when we were there once, just the two of us. He pointed toward a plot in the back. There were no tears. There was no shaky voice. I nodded and pretended to be as cool about it as he was.
Pop Pop's longevity allowed us time to talk and share and get to know each other as people. He was leaving, but it was as if we'd reached an understanding that our connection wouldn't go away. It couldn't.
My mom sat on Pop Pop's left side. I sat on his right. We both held his hands as they rested on his chest. At one point, I must have wiggled my fingers a little. My mom jumped and said, "Is that you?" We laughed.
And then, a few minutes later, he died.
I stayed with him while my mom called her sister and brother. It was just the two of us, like it had been so many times before.
I studied his freckles, and noted the one below his right eye that I was certain my grandmother Dibi called a "kissing spot." I looked at his hair skimming his ears, a little longer than he probably would've liked. I thought about touching his shoulder, but I was scared it would feel cold. I wanted to remember the warmth in his hand as I'd held it, and thumbed over the top like he used to do.
>> Sign up for the AARP Health Newsletter 
In Judaism, we observe our loved one's yahrzeit, the anniversary of their death. Basically, we pause and light a candle and say a prayer. We feel the presence of our person who is far away, yet still so very near.
I think about Pop Pop all the time, but this year, as his yahrzeit approaches, I find myself remembering the day he died and feeling thankful that I was there — thankful my boss told me to jump on the next train, thankful I listened and thankful we did everything in our power to help Pop Pop die comfortably.
My mom and my aunt showed me how to say, "We're here. It's OK to relax." We said it for him, but I also think we said it for ourselves. It was OK for all of us to let go.
Also of Interest

See the AARP home page for deals, savings tips, trivia and more