4 Things I Learned From My Teen's Driver Safety Program
By Bob Stephen, February 21, 2013 08:30 AM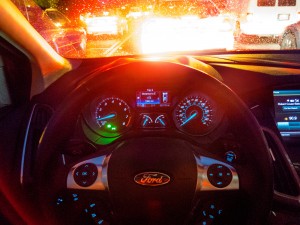 My second child is learning to drive. In our state one of the requirements for driver education is for the student and a parent to attend a 90-minute seminar on safe driving. I'll admit that I was not looking forward to attending this session, but left having learned far more than I imagined possible.

For example, it turns out they no longer teach the same steering wheel or mirror positions from my high school days. Technology and distracted driving is an important addition, and there is a great deal of emphasis on preparation. It seems that there is a big gap in the way we think of driving - we focus appropriately on teens but after that, we only offer driving refresher courses to those at risk of losing their license or older drivers.

So, maybe I missed something, but the steering and mirror best practices left me shaken - how could I have missed these fairly significant changes! For steering - best practice is now to hold the wheel at 9 and 3 or 8 and 4. This provides better control and protection against injury during air bag deployment. For mirrors, blindspot and glare elimination is now recommended. That last tip made me feel guilty, because when my older son tried to change our mirrors that way, we told him he was doing it wrong! The course also discussed distracted driving sharing a moving video. Finally they talked about the importance of becoming familiar with your environment. Each of these lessons is important to teens but no less important for all of us.

I have since discovered that everything I learned in my teen's driving class is also covered in classroom and online AARP Driver Safety  classes. Anyone can take the Driver Safety Course - and drivers of any age in seven states (DE, GA, KS, NJ, NY, ND, OK) are eligible for insurance discounts. More than 25 other states offer a premium discount, but only to older drivers. Later this year the AARP Driver Safety program will be introducing an updated curriculum, so that will be one place you can be sure you're getting the most current take on driving laws.
The steering and mirror information is something we can all use. Another easy "win" comes from a recent conversation I had with AARP's Jana Lynott. Jana suggested that, when moving into a new community, it can be really valuable to ride as a passenger with someone who knows their way around. Use the time to understand how traffic flows and get prepared. I'd take that a step further. It's not just new roads but new conditions such as understanding how to drive in different kinds of weather or even seeing how your new neighbors drive under these conditions.

Finally, another great source for driving information - for drivers of all ages - is Julie Lee's "The Road Less Traveled" blog. Julie leads the AARP Driver Safety program. Her blogs include great information such as this one on SMART Driving.

Photo courtesy of Robert Couse-Baker/Flickr via CreativeCommons.org