Call Your Mom! Wait, What Do You Mean You Already Did?
By Becky Gillan, May 9, 2013 12:55 PM
With Mother's Day around the corner, let me add my praise for mothers. I applaud the efforts every mother makes to try to ensure their children live a well-balanced life. I also applaud aunts and grandmothers too, as more and more it takes a village to raise Millennials!

Mother's Day is a huge day for retailers who sell flowers and chocolates. In my own qualitative assessment, these sellers are in for another banner holiday. At a big warehouse store this past weekend, the 24 stem rose bunches were virtually gone by the early afternoon. I saw one man with 3 bouquets in his cart and I was practically swooning.

But do younger folks still believe in these traditional gifts? I wonder if for Millennials texting and Skype are a bigger deal than presents? I know my own Millennial niece will text her Mom before she even gets out of bed on Mother's Day.

It's interesting to see how today's kids are different from their parents' generation. Today's kids communicate differently, and perhaps more, with their parents now given the 24/7 presence of their tech devices. According to AARP's own Generations Study (see our fact sheet below), 31% of today's young adults say they communicate with at least one parent daily, compared to 13% of Boomers who said they did the same when they were young. Smart phones and iPads allow young adults to ask a quick question before they get home and forget about it, and sending a photo of a DIY project that they need help on is easier than describing it on the phone. My niece texts her mom and dad several times a day and cannot watch TV for five minutes without texting her friends.

While there's more virtual communication between kids and parents, I also think kids go out less with their parents than when I was their age. Young adults may participate in the family vacation, but they usually want to bring a friend along. And on weekends it is all about doing things with friends.

However, in our Generations Study, the majority of today's young adults (60%) say they get together with their parents at least once a week.

Perhaps it's because fewer young adults are living on their own. For practical reasons, many young adults have moved back in with their parents. As shown in our generations study, 63% of today's young adults believe it's better for them to live with parents than to struggle on their own (Boomer parents are just slightly less enthusiastic at 53%). I've experienced my own version of the Boomerang generation. And happily! I would rather my niece live with me in a one bedroom apartment for her summer job in the city and save money versus struggle to pay rent. We survived last summer and are getting ready for round two this year.

When I was fortysomething, I was visiting my Dad in Dayton, Ohio and he was driving us to lunch. Out of the blue, I asked him if he thought of me as an adult. He quickly turned and with no hesitation said: "You will always be my little girl." I wish every day I could say: "I love you to my Mom and Dad," one more time.



Check out our new fact sheet on parental relationships & find out how the kids of today talk to their parents differently from the kids of yesterday: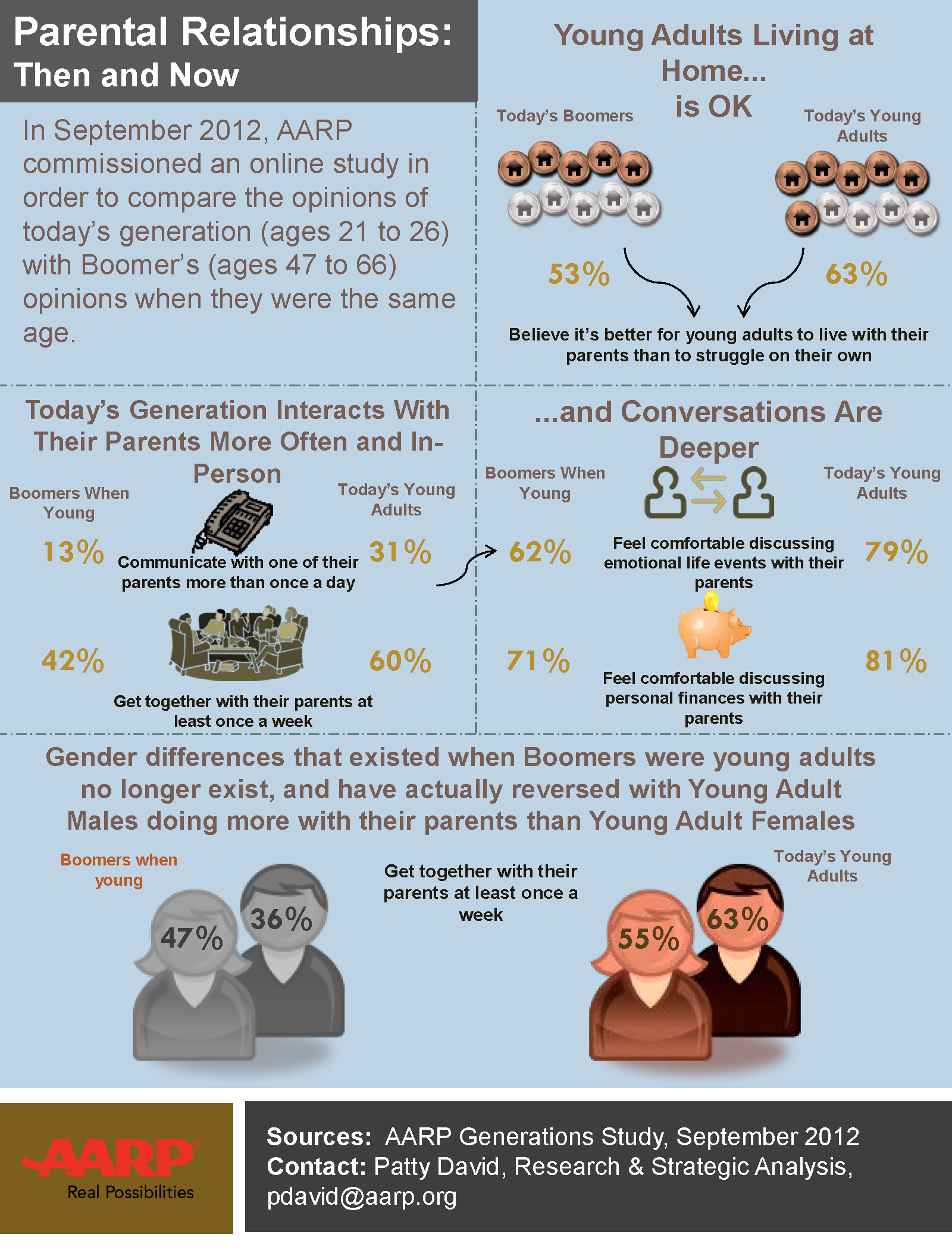 More AARP Research on Parenting:

AARP Generations Study

AARP Connecting Generations Study on Technology

More on Becky: Becky is AARP's Senior Vice President of Research & Strategic Analysis, and is focused on fostering understanding of the interests and concerns of people age 50-plus and their families. Before coming to AARP, Becky served as the Vice President of Global Market Research & Guest Satisfaction for Starwood Hotels & Resorts. In her spare time, she likes visiting her niece in Ohio, gardening, and collecting American art and antiques.