Chef Jose Andres' Recipe to Fight Hunger: Stop Wasting Food
By Jose Andres, February 9, 2016 03:20 PM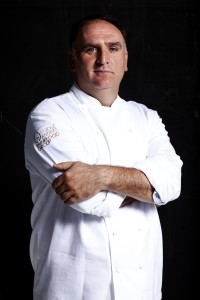 En español | I've said it before and I will say it again: I believe that food is our most important resource. Next to breathing, eating is one thing we do every day to survive.

We hear a lot about resources such as money, oil or energy, but I think we need to talk more about food. And there's no better time than during February, AARP Hunger Awareness Month. As a chef, I feel it is my responsibility to help make our food system a priority. While I feed thousands in my restaurants, my dream is to feed the masses. Millions of people in this country face hunger daily. And the one thing that we can do to help: Eliminate food waste.

11 Foods With the Biggest Nutritional Bang for Your Buck »

When I was growing up in Spain, my family's refrigerator was always full at the beginning of the week, and empty at the end. My mother was an unbelievable cook, and not a morsel of food was spared. Many Americans don't realize how easy it is to create simple, nutritious meals with food that they throw out, such as bread. I always have leftover bread, but most people usually don't know what to do with it.

One of my most prized recipes is migas, which my great-uncle taught me to make when I was a boy. Just sauté cubed bread with some onion and olive oil until it's perfectly crisp on the outside and moist on the inside, and top it with fried eggs. It's simple, affordable and unbelievably delicious. Try the recipe below.

Wasting food is wrong. But through humble dishes like migas that help us preserve the earth's goodness, we can eliminate waste and fight hunger.


---
Migas con Huevo Frito
(Sautéed Bread With Fried Egg)
Serves 4


2 slices bread

Extra virgin olive oil

1/2 onion, thinly sliced

Kosher salt

4 large eggs


Roughly chop the bread.

Heat 2 tablespoons of oil in a large sauté pan over medium heat. Add the onion and sauté until soft and lightly browned, 2 to 3 minutes. Add another 2 tablespoons of oil and the bread. Continue to sauté, stirring occasionally to keep the bread from sticking and the onions from burning, until the bread is golden brown, 8 to 10 minutes. Season to taste with salt. Spread mixture on a large serving platter.

Heat 2 tablespoons of oil in a medium nonstick sauté pan or frying pan over medium heat. Crack two eggs into the pan and fry until the yolks begin to set and the edges begin to brown. Tip the pan and spoon the pooled oil over the eggs. Season with salt and set on top of the bread on the platter. Wipe out the pan, if needed, add more oil, and repeat with the remaining 2 eggs.

Help hungry seniors – add your name in support! »


---

Jose Andres is chef/owner of ThinkFoodGroup restaurants. An advocate for food and hunger issues, he works with organizations such as DC Central Kitchen and L.A. Kitchen. • If you use an AARP Credit Card from Chase, with every restaurant purchase made using the card, Chase donates 10 cents to AARP Foundation in support of Drive to End Hunger (up to $1 million in 2016). Plus, during February, AARP Hunger Awareness Month, Chase will double its donation to 20 cents (up to an additional $100,000). Denny's will also donate 25 cents to support Drive to End Hunger during February for every AARP Membership Card that is shown at a participating restaurant (up to $250,000).


Photo: Blair Getz Mezibov

Also of Interest

See the AARP home page for deals, savings tips, trivia and more.